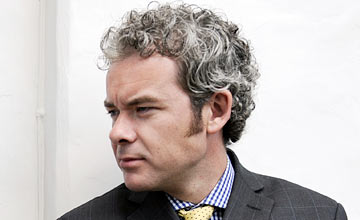 Paul Struthers: "Plans used to bulldoze through racing on Good Friday"
PICTURE:
Edward Whitaker (racingpost.com/photos)
Arc: we didn't say it's Good Friday or nothing
ARENA RACING COMPANY has hit back after the Professional Jockeys Association accused it of creating a new all-weather championship as a 'bulldozer' to secure a Good Friday fixture for the first time.
Arc managing director Tony Kelly called the PJA "disingenuous" and then moved to counter criticism from the Horsemen's Group for failing to sign prize-money agreements as 30 other racecourses have done.
Kelly said Arc was committing the same amount to prize-money next year as it would have done had a deal been reached with the Horsemen's Group and revealed talks had foundered because his group was unable to divulge confidential information about its media rights income.
After the racecourse group came under fire for what was described as an "inexcusable" and "inexplicable" failure to sign a contract with the HG, Kelly said the £11.3 million prize-money sum that had been agreed with the BHA was the same figure that had also been acceptable to the HG.
Kelly said Arc, which has also announced a £2m all-weather championship this winter, including plans to stage a £1m raceday on Good Friday, deserved recognition for its commitment and claimed next year's programme would offer prize-money "quite comparable to most other tracks in the UK".
PJA chief executive Paul Struthers said a fresh prize-money injection from Arc was "long overdue" and would be a boost to jockeys who do not ride abroad in the winter.
But he added: "While we shouldn't lose sight of the positives, it is disappointing that these plans were used to bulldoze through racing on Good Friday.
"Any claims to the contrary need to be treated with caution, given we were told on numerous occasions that without the finals day taking place on Good Friday, the entire proposal fell apart."
Kelly said: "They are being disingenuous because Paul Struthers was involved in the discussions from the very beginning.
"We didn't have Good Friday in mind when we started this initiative. We went to the BHA talking about the various options and it ended up the best day for the final of the series.
"When we went back to the sponsors and said we may be able to have Good Friday they were delighted. At that point we decided to push on, but at no point did we say to the BHA we want to do this, it's Good Friday or nothing. That wasn't the way it happened.
"The BHA has agreed to do this for a three-year period with the finals day on Good Friday. We want to make it bigger and better and as successful as possible, and if at the end of this period it isn't successful and the BHA takes away the Good Friday fixture and we go back to what it is, then that's what we do. But it won't be through lack of trying.
"We're absolutely committed to making this work and I really think there needs to be recognition of what we're tying to do here and the fact we're putting a lot of money into prize-money. We are not taking it out, we are putting it in."
Reacting to criticism from the HG, Racehorse Owners Associ ation and National Trainers Federation, Kelly said: "I expected their response, but I don't think it takes away from what we're going to do.
"We spent a long time talking to the horsemen and what hasn't quite been understood yet is that the amount of money we offered the horsemen under the prize-money agreement was acceptable to them, is still acceptable to them, and even if we signed a prize-money agreement it wouldn't change.
"We have committed to £11.3m in prize-money, that was the number we were going to pay the horsemen if we signed a prize-money agreement and that is the number we will continue to pay."
The 30 tracks that have signed contracts with the HG have promised a proportion of income from media rights, and Kelly said: "The prize- money agreement requires disclosure of media rights income, which we were both unable and unwilling to do because we are a private company and we are under no more obligation to open our books to the horsemen than they are to us.
"They were happy with the money that was on offer. We are disappointed we haven't been able to reach an agreement, but it needs to be understood the agreement wouldn't result in any more money."
Whether horsemen adopted what Kelly called "the veiled threat" to race at tracks that was "down to them", but he added: "When we put our race programme together next year the prize-money on offer will be quite comparable to most other tracks in the UK.
"There will be no justifiable reason on prize-money grounds to single out Arc in any way shape or form."