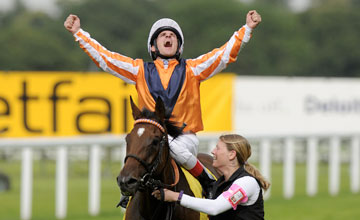 Danedream's rider Andrasch Starke celebrates her King George triumph
PICTURE:
Getty Images
Danedream camp: Arc run one in a million
CONNECTIONS of last year's Qatar Prix de l'Arc de Triomphe winner Danedream have all but given up hope of the filly defending her crown on Sunday after an outbreak of a serious equine disease at the racing centre where she is based.
The Peter Schiergen-trained four-year-old, who hacked up in the Arc 12 months, is being stabled at Cologne racecourse where a horse tested positive for equine infectious anemia (EIA), also known as swamp fever, on Monday night.
Danedream is fine, but German authorities are set to prevent her travelling to France on Sunday.
Patricke Barbe, spokesman for Danedream's part-owner Teruya Yoshida, told the Racing Post on Tuesday morning: "There is a scratching stage for the Arc today and another tomorrow. We'll keep her in until the last minute but the chances of running are one in a million.
"The horses are in quarantine and the authorities say they can't move for three months, but that may change because they're doing tests on other horses."
Danedream, who also won this year's King George VI and Queen Elizabeth Stakes, was well fancied to retain her Arc title, but Betfair suspended their market on Monday night following the dramatic news, while a number of bookmakers removed her from their betting.
Japanese star Orfevre is now favourite for the Longchamp highlight.