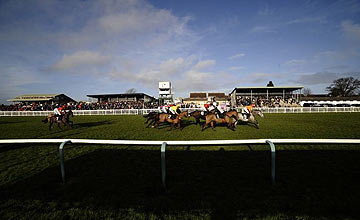 Racing will return to Hereford on May 5 with the first of five Arab meetings
PICTURE:
Getty Images
Racing back at Hereford with five Arab meetings

RACING is to return to Hereford sooner than expected following the announcement that the axed track is to stage five Arabian meetings this year.
Following a failure to agree a lease extension with the local authority, Arena Racing Company last year called a halt to racing at Hereford with the track staging what might have been its last ever jumps races in December.
However, action of a different sort will resume at Hereford on Sunday, May 5, while the next three cards will also take place on the first Sunday of the following months. The fifth and final fixture will end the Arabian racing season on September 28.
Jim Allen, Arc racing director said, "We are delighted to have been able to find a way for the facilities at Hereford to be used while we continue to develop our longer term strategy for the venue."
Amanda Smith, Arabian racing organisation racing manager, said: "The regular Hereford fixtures from May to August lend themselves to a dedicated marketing campaign through which we hope to be able to introduce new people to our sport and increase our following."
The ARO confirmed that its flagship Dubai International Newbury raceday will move from its traditional Sunday slot to Thursday, August 15.