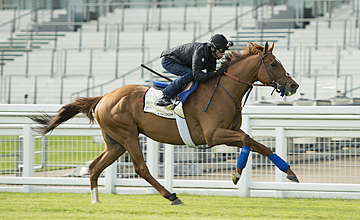 Animal Kingdom breezes past the empty Ascot stands on Wednesday
PICTURE:
Edward Whitaker (racingpost.com/photos)
Animal magic in Ascot workout for Velazquez
ROYAL ASCOT contender Animal Kingdom pleased connections on Wednesday morning when big-race partner John Velazquez flew into Britain to partner the Queen Anne Stakes favourite in a racecourse gallop.
Trainer Graham Motion gave the five-year-old a dress rehearsal for his royal-meeting assignment with a couple of laps of the pre-parade ring and the paddock before a workout over about four furlongs of the straight mile.
"He went great," said Velazquez, who partnered Animal Kingdom to his Kentucky Derby victory in May 2011.
"He worked really, really well; went very, very good," added the rider, who jets back to New York on Wednesday afternoon ready to ride at Belmont Park on Thursday.
With owners Barry Irwin of Team Valor and John Messara of Arrowfield Stud in attendance, Animal Kingdom cantered down to beyond the five-furlong marker before an easy gallop back for a furlong or so, at which point he moved into his serious work with his lead horse, an unnamed horse from David Lanigan's yard, where he has been housed since winning the Dubai World Cup.
Animal Kingdom stretched out in the last couple of furlongs before giving his connections an anxious moment when he fly-jumped just after the post.
"It was an awkward moment but thankfully nothing happened," said Velazquez. "He just saw the line across the wire and tried to jump it.
"You've got to expect something as it's a new track, a new thing and he's seeing something that's not supposed to be there. But he was going fairly fast to do that and I was lucky to stay on. He jumped right on top of it. He usually wears blinkers so hopefully he won't see it on the day and we might try a shadowroll (noseband)."
The Puerto Rican, who rode two winners for US trainer Wesley Ward at Royal Ascot in 2009, was otherwise overjoyed with Animal Kingdom's effort.
"It was nice to have a work on the track and see where he's gonna run. I think he did it very good today.
"Today with all the rain we've had over last couple of days it was very soft and I was a little concerned as I don't think he's been on ground the way it was. But he seemed to handle it very well, it didn't bother him very much.
"He's just so versatile. He's one of the most special horses I've ever ridden, definitely a special horse."
John Velazquez: delighted
PICTURE:
getty images
Trainer Graham Motion rode a hack down to the start of the gallop before following Animal Kingdom back in front of the empty stands.
"I'm satisfied with how it went," said the Maryland-based Englishman. "Johnny seems really pleased with him.
"For us it was very soft out there and Johnny felt he handled it great, though I didn't think it would be a problem because this horse handles everything that;s thrown at him and he's bred to handle soft grass. Normally at home we'd work five furlongs but with the soft ground I didn't want to step it up until four furlongs.
"We got everything covered in one swoop today," added Motion. "This isn't something I normally would have done but fact they were gonna let us do it, I thought it might be important.
"We're doing so foreign to anything he's done before that we'll turn every stone we can turn so hopefully it really helped."
Motion, who goes back to the States on Wednesday night, will return on Saturday week to oversee Animal Kingdom's final Ascot preparations.
"I almost hate to say it because we've still got a few weeks to go but it has gone really well so far," he added. "This was an important workout - he'll probably have two more works now, an easier work next week and another one the week after that."