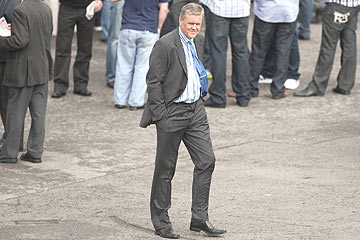 Paul Scotney: headed 'complex and time consuming' investigation
PICTURE:
Edward Whitaker (racingpost.com/photos)
Jockey and footballers charged with race-fixing
A JOCKEY and three professional footballers have been charged with serious breaches of the rules of racing by the BHA.
Andrew Heffernan, who is now riding in Australia, Michael Chopra, who plays for Ipswich Town, James Coppinger on loan at Nottingham Forest and Mark Wilson, formerly of Manchester United and Oxford United, are among nine people the authority has charged following a lengthy investigation into horses being laid to lose on betting exchanges.
Heffernan has been charged with communicating information relating to the prospects of a horse in a race, directly or indirectly, to one or more betting exchange account holders.
The unlicensed individuals have been charged with placing bets and/or causing one or more other betting exchange account holder to place bets on the horse Heffernan rode in the race using information they had received directly or indirectly from him or other licensed person.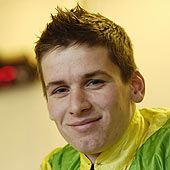 Andrew Heffernan: charged
PICTURE:
Edward Whitaker
Heffernan has also been charged with communicating directly or indirectly to one or more account holders on betting exchanges, for material reward, gift, favour or benefit in kind, offering to receive or receive a bribe and intentionally failing to ensure that a horse ridden by him was run on its merits.
The charges relate to three horses in three individual races, Wanchai Whisper at Lingfield on January 28, 2011, Gallantry at Kempton on February 2, 2011 and Silver Guest at Lingfield seven days later.
Also charged is Paul Garner, who was registered as a stable employee at Alan McCabe's at the time of events. Garner has been charged with offering Heffernan bribes and laying two horses he rode, City Legend at Wolverhampton on January 10, 2011 and Elusive Warrior at Southwell on February 17 of the same year.
The investigation centred on nine races, all taking place between November 2010 and March last year.
Paul Scotney, director of integrity services, compliance and licensing for the BHA, said: "The charges BHA has issued today are the result of a long and complicated investigation. This process has taken significant time and resources. However, investigations such as these are very similar to fraud investigations and as such are complex and time consuming.
"Furthermore, we encountered difficulties in obtaining telephone records from certain individuals who refused to co-operate. This resulted in us having to make a number of applications to the High Court for orders against their mobile telephone service providers for disclosure of the relevant records.
"We hope that today's announcement demonstrates our commitment to deterring and detecting wrong-doing and taking action against those who we believe to have breached the rules. However, racegoers and those betting on British racing should be reassured that instances of this nature are extremely rare and that the overwhelming majority of races are free of suspicion."
The date of the hearing will be announced in due course the BHA said.