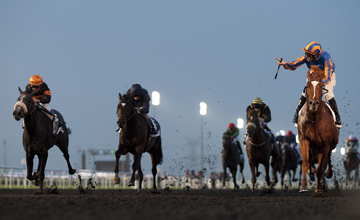 Daddy Long Legs (right) won on Tapeta at Meydan on his last start
PICTURE:
Edward Whitaker (racingpost.com/photos)
DaddyLong Legs tries out dirt before Derby
Racing Post international editor Nicholas Godfrey caught up with Ballydoyle assistant trainer TJ Comerford at Churchill Downs after Kentucky Derby hope Daddy Long Legs stretched his legs for the first time on the dirt having come out of quarantine
THE colt trotted the 'wrong way' around the track before cantering for about a mile, after which Comerford was in upbeat mood, despite the unfavourable draw in gate one of a 20-runner field.
He said: "Very good - he moved well on the dirt. People were impressed with the way he moved and he's in great shape. He's not drawn well but what can you do about that? He's in good order. Drawn one as everybody knows isn't a good draw but you never know what will happen. He's been trained for this and Aidan is a big fan of him - he's not here for the good of his health."

Comerford believes Daddy Long Legs' previous visit to the track for last year's Breeders' Cup stands him in good stead, despite his having beaten only one home that day.
"Things didn't work out but being here before is probably a big help. He ran here as a two-year-old and I know he didn't run well but he was drawn on the outside and though he broke well, he didn't get away that well but he was better in Dubai.
"He's a good-moving horse and the main thing is that I think at least he's been here before he knows where he is. It was only a few months ago.
Although Louisville is sweltering in 90C temperatures this week, Comerford has few worries on that score: "The heat isn't going to be a problem. He was in Dubai and it won't be any hotter than that. If we get the same result we won't worry about the sweating too much.
And the travel? "We came over the same way we came last year with Master Of Hounds and he ran well. The travel is not a problem for him. He takes it all well. It doesn't bother him."
With Aidan O'Brien on duty at Newmarket, part-owner Michael Tabor will be on hand at Churchill Downs.