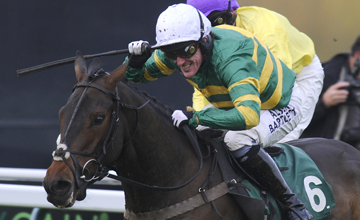 Get in! Tony McCoy grins with delight as he reaches 4,000 wins
PICTURE:
RP GRAPHICS
Scudamore leads tributes to 'fantastic' McCoy
TRIBUTES to Tony McCoy on reaching the landmark of 4,000 wins were led by Peter Scudamore, who at one time also ruled the roost for wins by a jump jockey in Britain and Ireland.
Scudamore, now assistant to trainer Lucinda Russell, retired from a glittering career in April 1993 with a total of 1,692 wins.
"As somebody who has been an eight-time champion and ridden more winners than anybody else at some stage," Scudamore said, "it makes me feel humble and full of admiration for Tony, who is a terrific sportsman and a tremendous fellow.
"He is a role model well outside racing; he's got a fantastic personality and it really is a magnificent achievement."
McCoy's weighing-room colleague Richard Johnson, who is closest to him in the all-time list with 2,571 wins, said: "What he's achieved has been amazing.
"He has completely rewritten what we thought was achievable in a season, and a career. Whether it's a Monday, a Saturday or a festival, he's hungry and consistent every day.
"He rarely makes mistakes - you would struggle to think of one. He is a machine who turns out winners. He seems to get it right all the time and is a great ambassador for our sport, a true professional sportsman."
McCoy's first boss in Britain was dual Grand National-winning trainer Toby Balding, who said: "Tony has achieved more than anyone's expectations including, I'm sure, his own.
"He's proved conclusively that he's the star of the century and numerically we have never seen the like of his career and I'm sure nobody ever will.
"I'm not saying he is the best jockey I've ever seen ride, but he is certainly the most effective and the most productive.
"Added to which Tony is a real nice guy, he is an absolute tribute to both himself and his profession, and he represents them all admirably."
Another Grand National-winning trainer, Kim Bailey, said: "Tony is the greatest jockey we have ever seen, his determination is unbelievable, and he has been great for the sport."
Tributes from outside racing were plenty, including from McCoy's beloved Arsenal football club.
Arsène Wenger, the Arsenal manager, said: "I would like to pass on my congratulations to AP McCoy for reaching this remarkable milestone.
"He has been at the top of his sport for a very long time - as long as I have been manager of Arsenal Football Club - and that shows fantastic consistency.
"He has come through a lot of injuries and has shown great resilience to get to where he is. Everyone at the club is proud to know that AP McCoy is an Arsenal supporter."