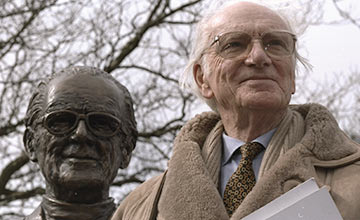 Sir Peter O'Sullevan: charity has raised over £4 million
PICTURE:
Getty Images
O'Sullevan legacy to live on with charitable trust
RACEGOERS and racing professionals were united on Thursday in admiration and respect for the late Sir Peter O'Sullevan, whose charitable trust is set to continue the fundraising work that has already benefited its six affiliated good causes by more than £4 million.
The Sir Peter O'Sullevan Charitable Trust, created shortly after his retirement from the BBC commentary box in 1997, will have its next major event on November 26 when Tony McCoy will receive the legendary broadcaster's annual award at a lunch whose auction has traditionally yielded huge sums.
That function is this year sure to be a poignant occasion, as was the moment at Goodwood on Thursday when racegoers joined in a minute of applause for O'Sullevan, some of whose greatest commentaries were played out at the same time.
A few moments earlier the jockeys for the first race had gone to post wearing black armbands to mark the passing of the 97-year-old, who died peacefully at his London home on Wednesday afternoon.
O'Sullevan's trust benefits the Blue Cross, the Brooke, Compassion in World Farming, Racing Welfare, the Thoroughbred Rehabilitation Centre and World Horse Welfare.
They will all continue to be supported, according to the trust's administrator Nigel Payne, who said: "Peter was determined the trust should continue after his death.
"He always said that after he had gone we must keep the trust going and there is absolutely no intention for the trust to stop."
Paying tribute to O'Sullevan, World Horse Welfare chairman Barry Johnson said: "The impact of Sir Peter in racing is legendary, but he deserves similar - if not greater - recognition for his influence in advancing the welfare of horses including through his lifetime of unstinting support for World Horse Welfare and the £4m donated to welfare charities through his eponymous trust.
"Racing has a huge impact on the image and welfare of horses, not just in the UK but worldwide. Sir Peter used that influence to improve the lives of horses, and indeed other animals.
"He was a stalwart proponent of the highest standards of horse welfare in racing, for instance lending his support to a reduction of the use of the whip.
"His presence will be greatly missed, but his impact is indelible and World Horse Welfare will continue to build upon his legacy as the greatest champion of the horse in living memory."
World Horse Welfare chief executive Roly Owers added: "Not only has Sir Peter been a tireless supporter since childhood for our campaign to stop the long-distance transport of horses across Europe for slaughter, but not many know that Sir Peter was also the inspiration behind the launch of our international programmes 30 years ago.
"These have since helped hundreds of thousands of working horses in developing countries around the world."
Petra Ingram, chief executive of the Brooke, an international animal welfare organisation, said: "Sir Peter became patron of the Brooke in 1999 and was heavily involved with the charity, visiting our work overseas, supporting fundraising appeals and raising over £600,000 for the Brooke through his own charitable trust.
"His passion for horses shone through in everything he did and he cared deeply about the welfare of the 100 million working horses, donkeys and mules around the world. We will miss him."
A small private funeral will take place in the near future with dates for that and a subsequent memorial service to be announced in due course.
In Friday's Racing Post - a special commemorative 16-page supplement on Sir Peter O'Sullevan. Available on iPad from 8pm on Thursday