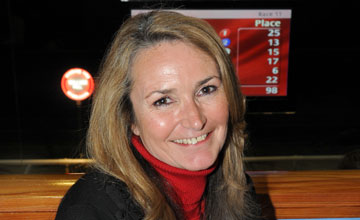 Diane McLean: calls for Merton Council to back a winner in greyhounds
PICTURE:
STEVE NASH
McLean queries council attitude over planning
DIANE McLEAN, who is co-ordinating the We Want Wimbledon campaign on behalf of would-be buyer Paschal Taggart, came out on the attack at Plough Lane on Saturday against the AFC Wimbledon proposal to base their football operation on the site.
McLean, who presented the trophy to Miss Mutley after the bitch's win in the WWW Puppy Invitation, used the occasion to question the fairness of the process ahead.
She said: "It's fantastic to see such an excellent crowd enjoying a safe and exciting night out, and I've faced many questions from people about the latest threat to the future here from AFC Wimbledon – who filed their proposed plans on 19 September.
"This was actually seven months outside the cut-off date of 27 February this year for submissions stipulated by Merton Council in accordance with their Sites and Policies Development Plan process.
"I suppose the reality is nothing much has changed from September last year when Galliard Homes, the stadium's owners, threw the gauntlet down and proposed building a football stadium and housing on this greyhound site.
"However, one major factor in these new plans submitted by AFC Wimbledon is that it is going to cost them a significant amount of money to build the first stage 11,000-seater stadium. A lot of fundraising needs to be first done by the Club – we will see!
"And it is hard to believe that an organisation which likes to describe itself a 'community club' has such arrogance to think it can depose the greyhounds from our site we have occupied since 1928 in the belief they're returning to a football 'spiritual home' of Plough Lane.
"Perhaps AFC need a lesson or two in map reading since the former Wimbledon pitch was at the top end of Plough Lane and not at this, the Tooting end.
"I find AFC's glib attitude to ending greyhound peoples' livelihoods and futures disgusting, not just at Wimbledon but throughout the UK and Ireland by potentially finishing off an industry which has been successful for the past 87 years – all for the sake of a Plough Lane address.
"It wasn't so long ago that they were offered a joint-tenancy with Tooting and Mitcham, but decided to go to Kingstonian ground outside the borough."
McLean says she has become increasingly concerned about the fairness of the process ahead, adding: "You only have to read the article in the South London Press this week where Councillor Peter Walker openly declares his support for AFC plans.
"He is quoted 'As a resident of Wimbledon, a Merton councillor and football fan, I would love to see the planning application of AFC Wimbledon succeed, and the team return to the Borough'. How can we not be concerned over council impartiality given public statements like that?
"Maybe it's time for the dogs to show their teeth and look into a Freedom of Information request and perhaps question whether due process has been followed by the council.
"After all, a seven-month time extension for late submission of AFC's proposal is stretching the limit somewhat. It's about the time the Council started showing appreciation of the value greyhound racing brings to Merton, rather than giving misty-eyed support for something that has failed in the past through lack of interest, mainly because of the amount of football already available in London.
"It's time for Merton Council to instead back a winner in greyhound racing."
Wimbledon big race report
MISS MUTLEY, trained by Richard Rees, turned over favourite Barefoot Scholar in Saturday's WWW Puppy Invitation at Wimbledon on Saturday.
The much-heralded Barefoot Scholar, for whom Paul Hennessy has already plotted a William Hill Derby challenge for next year, missed the start while Miss Mutley banged out in front.
She kept on to hold the challenge of Liz McNair's King Dec by three-quarters of a length in 28.39sec, just two spots slower than the William Hill Derby winning time of Sidaz Jack back in June, although the track was running an official 20 spots fast.
"We've always thought she was a good bitch, she did 29.34sec in her first-ever trial at Wimbledon so we knew straight away we had something decent," said Rees afterwards. "She's owned by a syndicate called the Filthy Rotten Scoundrels, a group of horse people who wanted some fun with a greyhound – she's certainly giving them that.
"She did everything right on Saturday, cracked out and seemed to find more when she needed to. She does love Wimbledon so, in a way, we're gutted the [ECC Timber] Oaks is at Belle Vue this year. But we'll go up there and see how she handles it.
"She had trials at Hove and Monmore as a pup to give her experience and hopefully Belle Vue will be fine. We've also got Zoos Caprice coming back from season this week and she'll be aimed at the Oaks too."
The odds-on Barefoot Scholar took third after that missed break and first bend trouble, but Hennessy was happy with the performance of his dog, saying: "It was a great learning experience. We may have had to travel a long way for the experience, but it could be well worth it. He's a very green dog with only two races before this and it was his first time to race under lights.
"Also, there was a very vociferous crowd at Wimbledon on Saturday and he would never had heard anything like it before. He walked out of the traps and was beaten by two good pups. He was doing 28.50sec and you would have to be satisfied with that in the circumstances. I'll be giving him a few more spins around Wimbledon as the English Derby will be his target next year."
WWW campaigner Diane McLean, on hand to present the trophy (see separate story above), said: "Miss Mutley showed excellent pace, but Barefoot Scholar recovered impressively and is certainly one to watch next year."