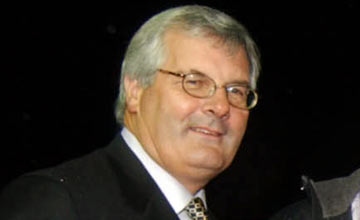 Paschal Taggart: dismissed AFC Wimbledon plans
PICTURE:

Steve Nash
AFC Wimbledon plans 'unrealistic' says Taggart
PASCHAL TAGGART, who is attempting to buy Wimbledon and build a new greyhound stadium on the Plough Lane site, has dismissed rival plans submitted on Thursday by AFC Wimbledon for a combined football stadium and housing development as being wholly unrealistic.
An 11,000-capacity stadium - with the potential to be expanded to 20,000 - was proposed along with 600 houses, to be built in conjunction with Galliard Homes, one of the owners of greyhound promoters the GRA.
Taggart said: "I'm amazed that Galliard and AFC are putting forward such a proposal. It seems totally aspirational and without financial foundation.
"Merton Council has consistently said that it wants enhanced sporting activity for the Wimbledon site, which includes the squash club that is there now. Yet the AFC proposal doesn't include any provision for the squash club and seems to assume that 21 football matches every year is sporting intensification. Quite frankly, I cannot believe they have submitted such a proposal."
He added: "We have put in first-class plans and spent an awful long time on them whereas it looks like AFC haven't spent any time at all. It seems their game plan is to put in a proposal, wait for a decision, and then somehow find the money.
"It seems so amateurish to believe that the £16 million it will take to build the stadium can come from the public, and then what about all the costs after that? As a financial advisor of many years, I have to say the proposal is totally unrealistic. The local residents won't like it, you can bet on that."
Read the full story in Saturday's Racing Post