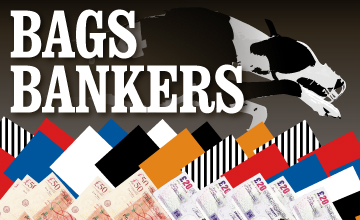 Wednesday tipping: Bags bankers by RP tipsters
Three Bags bankers for the action on Wednesday from the Racing Post's experts

Townhill Lad 1.12 Newcastle
Jimmy Fenwick's young pup is an exciting prospect and is learning rapidly after three races. The 'coffin' of trap four is a risk, but he can overcome it and pick up some pacey rivals down the back. This is a British-bred dog to keep an eye on.
Agharenny Rosie 6.11 Hove
This is the last race at Hove this afternoon and Maria Collins' bitch is on the upgrade after seasonal rest. She should start to improve now and is worth following. Going from the red of trap one, she can pick up front runner Tonruff Noddy, and halt the winning sequence of Dacent Pirlo - he bids for four in a row.
Son Of Krypton 7.11 Sunderland
Yvonne Bell's dog goes from trap five here and is capable of catching the proverbial pigeons when blasting out. He is more likely to follow round Meggie Joey then fend off a late challenge from the likes of Pretty Jessie.
All three of these races can be seen live in betting shops and are part of the Bags service, which today covers six greyhound meetings. Today Hall Green and Newcastle take the morning stage, Hove and Belle Vue race this afternoon, then Sunderland and Swindon tonight.

It's easy to place a bet with our Greyhound Bet app. Simply go to the Cards section and tap on the price to access the bet slip