Total Eclipse nightmare as Eske crashes out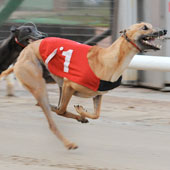 Ballymac Eske: shock elimination at Nottingham on Friday
PICTURE:
STEVE NASH
MAGS GAMBLE was fastest in the heats of the Betfred Eclipse over 500m at Nottingham, but the huge talking point of his heat six victory in 29.51sec was the shock elimination of hot ante-post favourite and track record holder Ballymac Eske.
It was 4-11 Ballymac Eske and 5-2 Mags Gamble at the off in the battle of greyhounds who have dominated the four-bend scene in the second part of the year and all looked set fair for a great tussle with both away to good starts.
However, whereas Mags Gamble was able to pace up from trap four and allow himself to cut across the first bend to take complete control at that point, Ballymac Eske was squeezed for room all the way to the turn and then suffered serious trouble at the second.
Oblivious, the Harry Williams-trained Mags Gamble was making the best of his way home and powered on to beat Whittle Murtagh by more than three lengths, with Romeo Patriot a further three-parts away as he easily extinguished attempts by Ballymac Eske to prolong his own stay in the competition.
The early part of the evening was dominated by Charlie Lister as he landed a treble in the first three heats courtesy of Taylors Sky, who held off Sawpit Sensation by half a length in 29.62sec, Killieford Khalli (29.64sec) and veteran Boher Paddy (29.70sec).
Lister was expected to land heat four as well with his Farloe Tango sent off 4-9F but he ran a very puzzling race, from the third bend at least, as a back straight surge was first stopped by crowding at the penultimate turn and he then seemed to lose his bearings completely when running straight on off the last before regaining momentum to claim the final qualifying position.
Victory went to Colin Callow's Longwood Fantasy, making a successful quick reappearance after finishing runner-up in the Laurels for the second successive year at Belle Vue on Tuesday. He drew clear from halfway to beat Darian Chief by almost six lengths in a very smart 29.55sec.
There was a 14-1 shock in heat five with Kim Billingham's Final Mccoy getting the better of a close finish to shade Hather George and Teejays Bluehawk in 29.84sec.
*Draw for next Friday's semis – first: 1 Teejays Bluehawk, 2 Whittle Murtagh, 3 Mags Gamble (m), 4 Hather George (m), 5 Romeo Patriot (w), 6 Sawpit Sensation (w).
Second: 1 Droopys Hayden, 2 Taylors Sky, 3 Jazz Apollo, 4 Boher Paddy, 5 Longwood Fantasy (m), 6 Final Mccoy (w).
Third: 1 Romeo Recruit, 2 Farloe Tango, 3 Westmead Bertie, 4 Darian Chief, 5 Bit View Micko (m), 6 Killieford Khali (w).
*AT Romford, the David Mullins-trained Blue Glenard (7-4F) saw off persistent challenger Waspinajar to land the £750 final of the Coral on TV Bitches over 400m, winning by a length in 24.62sec.
Mark Wallis's enjoyed another bumper evening highlighted by Ayamzaman recording victory number 20 of the year as he retook sole possession of the lead in the battle to be winningmost open-racer of 2012. Fernhill Jess has 19.