Three into Leger semis for Wallis as Robles exits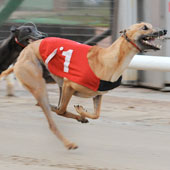 Ballymac Eske: looks spot on for the Betfred Eclipse
PICTURE:
STEVE NASH
MARK WALLIS dominated Saturday's williamhill.com St Leger quarter-finals with a double on a dramatic night when Droopys Robles, as short as 9-4 favourite for outright honours, made a shock exit from the competition.
The Imperial Kennels trainer sent out Blonde Fletch to overturn 5-4 market leader Express Leader by a head in the third qualifier (42.29sec), which came 30 minutes after his gritty bitch Ballintine Molly had dug deep to fend off 2-1 favourite Ding Hero (42.34sec).

A chance of a Wallis treble was foiled by impressive Romeo Patrol in the second quarter-final, Dave Firmager's 16-1 shot keeping on strongly to beat Blonde Reagan by four and a quarter lengths in 42.02sec.

Droopys Robles, the 4-7 favourite for this qualifier, didn't trap anywhere near as fluently as when getting within five spots of Droopys Bradley's 41.48sec track record last weekend.
Crowding at the first bend gave Paul Donovan's black a mountain to climb, and further traffic congestion at the penultimate turn sealed his fate.

Wallis said: "That was a satisfying night to get all three of our runners through. You won't find a gutsier bitch around than Ballintine Molly, I loved the way Blonde Reagan battled his way through, and Blonde Fletch showed terrific middle pace. Roll on next Saturday!"

Ballyard Bauddy, long-time ante-post favourite for the stayers' Classic, safely qualified for the semi-finals when finishing runner-up to 6-1 scorer Peggys Style (42.18sec), who hit the target for Chris Allsopp in the final qualifier.

Bubbly Swallow, who was seeking a Wimbledon hat-trick in this heat, could finish only fifth.

DRAW for Saturday's semi-finals:
First semi: 1 Express Trend, 2 Blonde Fletch, 3 Ballyard Buddy (m), 4 Ballintine Molly (w), 5 Brinkleys Sky (w), 6 Peggys Style (w).
Second semi: 1 Droopys Xavier, 2 Ding Hero, 3 Musical Gaga, 4 Blonde Reagan (w), 5 Romeo Explosion (w), 6 Romeo Patrol (w).
*RICKY HOLLOWAY dominated proceedings in the heats of the JB Riney MBE Kent Champion Hurdle over 540m at Crayford as he sent out Mo Realta Frank and Soviet Military to wide-margin successes.
Mo Realta Frank was easily the standard setter as the 4-5 favourite took heat three by a staggering 17 lengths from Clonkeen Theo in recording a very fast 34.27sec, while his Soviet Military (7-2) had earlir home better-fancied kennelmate Airforce Spirit (7-4F) in the second heat.
The winner paced up well and was in front by the turn at which point he was left with an unassailable advantage by trouble behind and ultimately sauntered home nearly 10 lengths clear in recording 34.72sec.
Hot favourite College Master (2-5) duly landed the opening heat, although his supporters would have been concerned early as he trailed the field after a modest start and then jumping high at the first hurdle.
However, Barry O'Sullivan's charge got a great run round the first couple of bends and again at the third and was in position to challenge soon after, forging clear from the penultimate bend to beat Jagerbomber by more than three lengths in 35.09sec.
The draw for Saturday's £500 final will be made by the GBGB on Monday.
At Nottingham, Barrie Draper's brilliant Ballymac Eske completed his Betfred Eclipse preparation when clocking 29.44sec (normal). He set a new track record of 29.21sec a couple of weeks ago on going which was rated +50 but Nottingham has since reacted to the running surfaced having apparently permanently speeded up and +50 as was is now regarded as normal.
The £8,000 Eclipse closes to entries at noon on Monday ahead of Friday's first round heats.
*In the Kerry Agribusiness St Leger quarter-finals at Limerick, Paul Hennessy's Priceless Sky (29.44sec) was fastest.
Irish Derby champ Skywalker Puma took the final heat in 29.71sec. Other heats were won by Sparta Maestro (29.64sec) and Coolard Chief (29.90sec).
Draw for Saturday's Limerick semis: 1 Damar Benny 2 Boher Supreme 3 Skywalker Puma 4 Kingo 5 Coolard Chief 6 Tibetan Skies
2nd semi 1 Head For Fame 2 Priceless Sky 3 Cashen Mafuma 4 Sparta Maestro 5 Leap On Board 6 Droopys Comedian
Saturday's Gain Feeds Select Stakes final at Waterford (all unseeded, Razldazl Rioga was fastest in Saturday's heats with 28.56sec): 1 Eabhas Fantasy 2 Milldean Tally 3 Urard Gem 4 Razldazl Rioga 5 Killinan Cash 6 Krelco
**Drumbo Park patrons had been treated to some unforgettable racing in the semi-finals of the Caledonia Smooth Gold Cup Open 525 last week, with the Ginger McGe- trained Ruthless Man's winning time of 28.15sec being the fastest time of the year so far at the Laganside venue.
Those who braved the bitter cold to watch Saturday's final were rewarded with a driving finish, the result remaining in doubt right down to the wire. Ruthless Man has an unenviable reputation for being unable to win two races back to back and this proved all to true on this occasion as the 6/4 jolly was slowly into his stride from trap 1, allowing 5/1 shot China Special in the white sheet to steal a handy early lead. The latter, an August 2010 black son of Duke Special, tends to head for the rail given half a chance, a fact that the pundits suggested might hinder both Ruthless Man and the Spanish-owned Paradise Martini in Trap 2 while doing no harm at all to the chances of the Sharon Hurley-trained Burst of Magic housed on his outside in trap 4.
This time however China Special took the long way around. Though strongly challenged in the home straight by John McGee's second string the 4/1 shot Gizmo Classic running from his favourite trap 6, the 76 pounder stuck to his guns to land the £5,000 first prize for Omagh-based joint owners Cathal Maguire and Gavin Mc Kernan by a short head in 28.71sec on a track rated + 0.20 secs fast. Ruthless Man finished a further length back in third place.
Tennent Caledonian Breweries were the first major sponsors of greyhound racing at Drumbo Park when the Stadium re-opened its doors in back in July 2008 and their backing for the sport has never wavered. Not only that, but they were giving away free beer as well!