Taylors Sky storms to Gold Cup heat success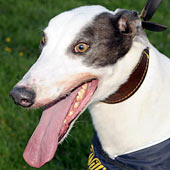 Taylors Sky: Couldn't have been more impressive at Monmore
PICTURE:
STEVE NASH
DEFENDING champion Taylors Sky looked as good as ever when storming to a six-and-a-quarter-length victory in heat three of the Ladbrokes Gold Cup at Monmore on Monday afternoon.
Charlie Lister's 2011 Derby hero broke fast from the one-box and was dominant from the start. Ballymac Ruso missed his break but rushed up to turn second. However, he was always chasing a lost cause as Taylors Sky powered on to record a flying 27.89sec.
However, it wasn't all good news for Lister as his Mottos Blue went wrong off the second bend when just about to assume command in heat four.
The race was won by Karen Hackney's Frankbrunosbro, who was left in front and convincingly beat the rest in a time of 28.25sec.
The opening heat had seen Colin Callow's Longwood Fantasy produce an exhibition of brute all-round pace to set the bar at 28.24sec.
Accelerating into second place down the far side, the July 09 black chased down trailblazer Milestone Apache to hit the front turning for home before surging to a two-length success.
Pat Rosney's Little Gent pinged the lids in heat two and, aided by crowding at the first bend and a tardy break from odds-on Silverview Perky, was never troubled to make all in 28.19sec.
Silverview Perky kept on well enough to take the runner-up spot, but can not afford to be so lethargic in next week's semi-finals.
Stuart Mason's Alien Planet, having his first run since that sensational 28.13sec run at Wimbledon on Derby final night, finished a very respectable third in heat five.
Clearly drawn on the wrong side of the winner – the middle-running Daddy Knowsbest – he was forced to go the long way round throughout, but must have pleased connections with the effort.
Holycross Prince finished well to split the pair in a three-way photo with the clock being stopped in 28.29sec.
The last of the eliminators saw Julie Bateson's Fridays Daryl show superior back-straight speed to outrun Farloe Iceman and then hold the late run from Fridays Shea to record a one-and-a-half length success in 28.15sec.
Draw for Monday's semi-finals: 1st semi-final: 1 Head Iton Eion, 2 Frankbrunosbro, 3 Blazing Ruso, 4 Bit View Micko (m), 5 Fridays Shea (m), 6 Fridays Daryl (w).
2nd semi-final: 1 Farloe Iceman, 2 Taylors Cruise, 3 Trewmount Snap, 4 Daddy Knowsbest, 5 Milestone Apache (m), 6 Mags Gamble (m).
3rd semi-final: 1 Taylors Sky, 2 Longwood Fantasy, 3 Alien Planet, 4 Little Gent, 5 Holycross Prince (5), 6 Silverview Perky (m).