Taylors Sky gets trap three in Select Stakes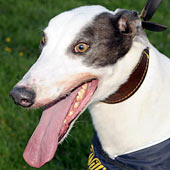 Greyhound of the Year Taylors Sky runs from trap three in the Select
PICTURE:
STEVE NASH
Wednesday's Betfred Select Stakes, 500m Nottingham, live on Sky Sports, winner £7,500, runner-up £2,000
1 Newinn Rocket 7/1
2 Blue Artisan 9/2
3 Taylors Sky 9/4
4 Mill Bling Bling 5/1
5 Sawpit Sensation (m) 8/1
6 Silverview Perky (m) 9/4
GREYHOUND of the Year Taylors Sky pulled trap three when the draw for Wednesday's Betfred Select was made on SIS Friday morning.
It looks tricky for him with fast-up Newinn Rocket, winning of the Ladbrokes Puppy Derby at Monmore, in red, and Blue Artisan getting trap two.
Mill Bling Bling, for his second successive Sky event after Thursday's William Hill Classic at Sunderland, is drawn on the outside of the railers.
Oaks heroine Silverview Perky, the sole bitch in the field, will go from trap six, with fellow middle seed Sawpit Sensation, who boasts a tremendous recent record, getting five.
Betfred have made the kennelmates, the Charlie Lister trained pair if Taylors Sjy and Silverview Perky their 9/4 joint-favouties.
**Betfred Select Stayers, 730m Wednesday, winner £2,500, draw and betting 1 Thank Will 16/1 2 Tynwald Tom 2/1 3 Aero Gaga 7/2 4 Ballyard Buddy 5/1 5 Capoley Ash 4/1 6 Bubbly Capel 7/2