Sole seed Airlie 6/4 for Coral Sussex Cup final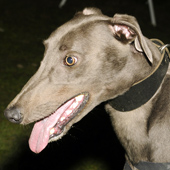 Westmead Maldini: powerful finish makes him a big player in Tuesday's Coral Sussex Cup final
PICTURE: STEVE NASH
WESTMEAD MALDINI, trained by Nick Savva, was fastest of the three semi winners in the Coral Sussex Cup on Thursday night at Hove, when putting up a smooth effort to outstay Loughteen Blanco, scoring by threeparts of a length in 29.91sec.
However, Paul Young's Airlie Impact was installed as 6/4 favourite by Coral for Tuesday's £10,000-to-the-winner live on Sky Sports showpiece after proving to be the sole seeded qualifier and looking to have a great make-up. He battled on well to run away with the third semi by over four lengths in 30.11sec.
Lenson Bob, sent off favourite here, seemed to stumble early, before running into the back of Fortunata at the turn, who was brought down.
In between John Mullins' Holloway Road gallantly held off Mark My Words by a head in 30.23sec.
Fastest of the night was Farloe Tango, who ran away with his puppy heat after leading at the third to win by nearly five lengths in 29.78sec.
Star bitch Silverview Perky, also trained by Charlie Lister, was just one spot slower after a 29.79sec romp, scoring by over five lengths.
On a night of cracking racing, the opening sprint heat saw a terrific buckle as Fernhill Jess held Dynamo Joe by a short-head in a fastest 16.17sec.
Tuesday's Coral Sussex Cup final (with Coral betting): 1 Loughteen Blanco (9-4) 2 Mark My Words (7-1) 3 Westmead Maldini (3-1) 4 Holloway Road (12-1) 5 Offshore Rebel (50-1) 6 Airlie Impact (w) (6-4)
Coral Puppy Trophy final: 1 Farloe Tango 2 Teejays Bluehawk 3 Droopys Xavier 4 Kinloch Tiger 5 Joscar 6 Ballymac Tobias (m)
Coral Sprint final 1 Big Local 2 Pams Tomjo (m) 3 Fernhill Jess (m) 4 Killeacle Ruso (w) 5 Dynamo Joe (w) 6 Blackstone Bob (w)
Coral Ladies Final: 1 Scramble 2 Seven Of Spades 3 Dixies Craft 4 Droopys Milla (m) 5 Silverview Perky (m) 6 Jaytee Monroe (w)

**Julie Bateson's Fridays Daryl clocked a fastest 28.07sec in Monmore's heats.
Thursday's Ladbrokes.com Trophy final, 480m: 1 Blazing Ruso 2 Milestone Apache 3 Fozzie Onedog 4 Landown Lenny 5 Rock It Mourinho (w) 6 Fridays Daryl (w)
**Stuart Mason notched a double at Belle Vue when Ballyward Buddy (fastest 40.53sec) and Granard Bound (40.58sec, held Blonde Fletch by threeparts of a length) both obliged in Cock O'The North heats. In form Swabys Princess (40.81sec) took the other heat.
C&T Bookmakers Cock O'The North final, 670m Belle Vue Thursday: 1 Swabys Princess 2 Round Woman 3 Blonde Fletch 4 Ballyard Buddy (m) 5 Kielduff College (w) 6 Granard Bound (w)