Phoenix sparkles again; 132 confirmed entries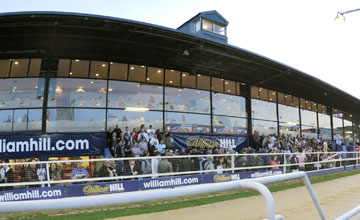 The Derby starts at Wimbledon Friday week, and continues on the Saturday. The draw is 1pm this Sunday
PICTURE:
STEVE NASH
ENTRIES for the WilliamHill.com Derby reached 132 when the premier Classic closed just after midday Wednesday. This is 17 down on last year, and significantly fewer than 2010 when some 200-plus unexpectedly emerged. There are 19 Irish raiders.
Gary Matthews, Wimbledon's racing manager, said: "The field reflects the current climate, there are fewer greyhounds about, and I suspect fewer being bred too."
The chase for the record £125,000 prize, increased by £50,000 by the sponsors from last year, will start on Friday and Saturday week – a third night is not required.
See full story in Thursday's Racing Post.
**Freedom Chief was not entered in the Derby
Weather: chilly, drizzle
WIMBLEDON STADIUM
TRIAL PROGRAMME
Wednesday 18th April 2012
273m solo
Newtown Skiptipp slow away very wide second 16.35sec
480m
Trial 2 Razldazl Rioga 2 Dolores Ruth(Irish) 4.79sec fast away, led to near line, rails
Jaytee Pedro 5 Kelly Findlay 4.92sec slow away, rails to middle, wide fourth, led near line by short head 28.72sec
El Clive 2 Peter Cronin(Irish) 5.04sec slow away, rails to middle, led half way by three and a quarter 28.84sec
El Dreamer 5 Peter Cronin(Irish) 4.94sec led to second, middle to wide, checked third and run in (looked little green)
Castlebride Dan 3 Mark Wallis(Yrmth) 4.85sec fast away, always led, checked first 28.72sec neck
Aero Bellagio 5 Mark Wallis(Yrmth) 4.96sec very slow away, middle, challenged run in
4 Razldazl Bugatti solo 4.80sec well away, rails to middle 28.66sec
3 Hather George (Lister)4.96sec slow away, rails to middle
6 Boher Chieftain (Lister) 4.78sec always led, wide 28.67sec four and three quarters
1 Droopys Betson (Pat Curtin Mon) 5.00 moderately away, led to second, rails, checked third

3 Bit View Micko (Corren Price) 5.05 very slow away, pace to lead second, middle to wide 28.72sec five and a half lengths
Dixies Air (Mark Wallis) solo 4.94sec rails to middle 28.85sec
2 Longrange Ivor (Peter Cronin Ire) 4.87sec fast away, always led, rails first, wide run in threequarters 28.95sec
4 Bombolini (Cronin) 4.90sec slow away, middle, stayed
You Mind Me 2 Frank Taylor(Unatt) 4.88 always led, rails 28.89sec length and a quarter
Lughill Paulo 6 Frank Taylor(Unatt) 5.07 left, checked first and second, middle to wide, stayed
tractor went round, bends watered

Hey Gringo 1 Jane Houfton(Donc) 4.92 slow away, rails, checked first and third, challenged run in
Landown Lenny 3 Jane Houfton(Donc) 4.87always led, rails to middle, 28.88sec neck
3 Taylors Sky solo 4.79 sectional rails 28.40sec
13 Meadow Bank Owl 1 Barrie Draper(Sheff) 4.99 beaten for early, railds, checlked first
Eden Star 3 Barrie Draper(Sheff) 4.82sec early pace, soon clear, middle, checked first, wide straights 28.64sec seven lengths
**Trevor Draper stated: "You have to be satisfied with that, I'd liked to have him taken the first bend better, butI was expecting 28.60sec so that's ok. It's straight to the Derby now."
14 Trap 2 Whats Up Jack 4.97 crowded and checked first, rails to middle after
Rockview Head 5 Peter Cronin(Irish) 4.91 soonled, cut in run up, checked slightly first, wide second 28.61sec, five and three quarters
15
Farloe Mysterio 5 Patrick Curtin(Monm) solo 4.92 middle first, very wide straights, 28.74sec
16 Goa Getta 2 Chris Allsopp(Monm) 4.91 led to run in, middle
Rusheen Major 4 Chris Allsopp(Monm) 4.99 slow away, rails, checked second, led run in 29.12sec half alength
17 Boher Paddy 2 Charles Lister OBE(Unatt) 4.82sec fast away, always led, rails 28.43sec six lengths
Hernandez 6 Chris Stringer(Swndn) 5.00 slow away, middle
Bubbly Phoenix 6 Paul Young(Rom) solo 4.71sec well away, middle, wide run in 28.33sec
19 Dream Walker 1 Malcolm Daniels(Unatt) 4.95sec middle trap, beaten for early, rails, checked quarter, kept on
Trewmount Snap 3 Darren Fretwell(Knsly) 4.86 early pace, soon led, middle 28.58sec one length
20 Cash Game 1 George Andreas(Sitt) 4.88 to middle first
Head Iton Hayesy 3 Steve Race(Unatt) 4.82 soon led, rails to middle, wide fourth 28.45sec eight and a half lengths
tractor went round, bends watered

21 Droopys Loner 1 Dean Childs(Unatt) 4.82 fast away, always led, rails to middle 28.52sec two and a quarter lengths
Airforce Newyork 3 Ricky Holloway(Unatt) 5.13 very slow away, rails, finished well
22 Ballymac Alver 1 Alma Keppie(Poole) 4.93 slow away, rails
Silverview Perky 4 Charles Lister OBE(Unatt) 4.79sec always led, rails to middle 28.49sec nine and threequarters
23 Dippy Doo 1 Terry Kibble(Oxfrd) solo rails closely 29.30sec
Eden Rumble (A Kepple Poole) 5.12 slow away, rails, wide fourth, finished well
Baigou Phantom (L Pruhs) 4.91 always led, middle 28.91sec short head
25 Big Step 1 Maxine Locke(Rom) 4.96 slow away, middle, crowded half way, led run in 29.00sec one length
Shelbourne Abi 3 Sean Davy(Sheff) 4.81 led to run in, rails to middle first
26 Jaytee Apache 1 Paul Young(Rom) 4.84 early pace, soon clear, rails 28.51sec four and three quarters
Broadway Magic 3 George Andreas(Sitt) 4.92 well away, soon outpaced, middle
27 Ryves Rock 1 Barry O'Sullivan(Cryfd) 4.90 early pace, soon led to run in, rails
Fawkham Rocky 3 Barry O'Sullivan(Cryfd) 5.04 lacked early pace, middle, led run in 29.40sec two lengths
Final trial:
28 Holycross Prince 1 John Mullins(Sitt) 4.88 early pace, led first, raisl closely first 28.82sec three lengths
Blackrose Bullet 3 Eric Cantillon(Hnlow) 4.89 well away, wide early, crowded quarter
*Live reporting via racingpost.com will also take place of trials before racing Friday and Saturday, and again of the first round draw, from 1pm Sunday