Parker and Williams at the double in Steel City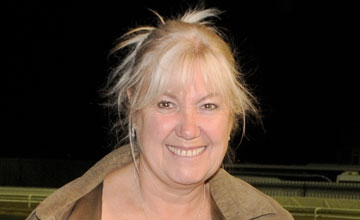 Elaine Parker: Two winners in heats of the Betfred Steel City Cup
PICTURE:
STEVE NASH
THE £7,500 Betfred Steel City Cup got under way at Sheffield on Tuesday night and, with only two qualifiers from each heat going through to next week's semi-finals, there was no margin for error.
The opening heat saw a command performance from Keith Allsop's Slick Santiago (10-11F) who was overcoming a five month absence to make all and beat Clonrooske Son by 3 1/2L in 28.94sec.
A dramatic second heat saw Charlie Lister's Bucks Blade sprint into a three length lead but he appeared to go lame off the second bend which left Elaine Parker's Skywalker Louie (7-2) in front and he surged on to beat Meadow Bank Owl by 3 1/2L in 29.31sec.
Bit View Micko seemed to have heat three in the bag but folded dramatically up the home straight and was overpowered by Harry Williams' Drumsna Hero (7-4F) and newcomer Whiterock with the winner posting 29.30sec.
Ante-post favourite Boher Paddy (4-9F) was odds-on to land heat four but, despite forging his way to the front at the first bend, was picked up in the latter stages by Elaine Parker's Bit View Royal (9-2) who produced a strong and sustained run from halfway to lead close home in a time of 29.27sec.
The fifth eliminator saw Stepaside Bigjak crack out from red and lead the charge. However he was soon challenged by Harry Williams' Mags Gamble (9-2) who asserted in the back straight and kept on well enough to record 29.26sec.
Droopys Betson ran on gamely to snatch the qualifying spot. Bansha Mo was well placed before running into serious trouble at the second bend.
Last of the six heats was billed as a match but Corren Price's Mays Gold (9-2) hadn't read the script.
The January 09 whelp secured an early advantage and gamely fended off challenges from both Hather George and Blue Artisan to win by1 1/2L in 29.22sec.
Semi-final draw:
First: 1 Whiterock, 2 Meadow Bank Owl, 3 Bit View Royal, 4 Hather George, 5 Boher Paddy, 6 Mags Gamble (m).
Second: 1 Skywalker Louie, 2 Droopys Betson, 3 Slick Santiago (m), 4 Mays Gold (m), 5 Clonrooske Son (w), 6 Drumsna Hero (w).