Paddy shows his steel and Santiago looks Slick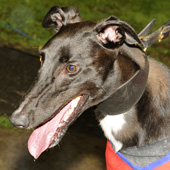 Boher Paddy: back to winning ways at Sheffield on Tuesday
PICTURE:
STEVE NASH
TUESDAY night saw Sheffield stage the two semi-finals of the £7,000 Betfred Steel City Cup - the final of which will be the centrepiece of a live Sky Sports broadcast next week.
The first eliminator saw a terrific early battle between Charlie Lister's pairing of Boher Paddy and Hather George.
The outcome was decided around the third and fourth bends when Boher Paddy (7-4F) forged on and, with Hather George being hampered at this stage, Paddy kicked on to score by 2 3/4L.
Meadow Bank Owl and Bit View Royal each ran on well without threatening the winner who clocked 28.90sec.
The second semi-final saw another impressive win for Keith Alsopp's Slick Santiago (11-8F). Despite a modest break, he paced up well and bullied his way past Mays Gold to kick on from the second bend. Clonrooske Son showed excellent back straight pace to move into contention but found no more from the final bend while Skywalker Louie stuck to his guns along the fence to qualify for Tuesdasy's shoot-out. The winner scored by 4 1/4L in 28.76sec.
Draw for Tuesday's final: 1 Meadow Bank Owl, 2 Boher Paddy, 3 Skywalker Louie, 4 Bit View Royal, 5 Slick Santiago (m), 6 Clonrooske Son (w).