Monmore 4-1 to retain Bags Championship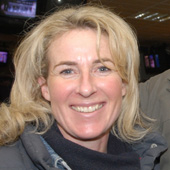 Kim Billingham: captained Monmore to 2011 Bags Track Championship
PICTURE:
STEVE NASH
REIGNING champions Monmore have been installed as 4-1 joint-favourites by Ladbrokes with Hove, which finished fourth behind them in last year's inaugural final, for the 2012 Bags Track Championship which begins a week today when Belle Vue plays host to Nottingham and Sheffield.
The format for the competition has been amended this year with six mini-leagues of three tracks rather than three leagues of six with the winning track from each league going forward to the grand final at Perry Barr on Sunday, December 23. Each match within the league will comprise of six races with each track providing two runners per race.
The groups are:
A: Belle Vue, Nottingham, Sheffield.
B: Kinsley, Newcastle, Sunderland.
C: Hall Green, Monmore, Perry Barr.
D: Oxford, Poole, Swindon.
E: Crayford, Hove, Sittingbourne.
F: Peterborough, Romford, Yarmouth.
Other finalists from last year also feature towards the head of the market with Newcastle and Romford bracketed together on the 7-1 mark, Belle Vue is 14-1 with Hall Green the least fancied at 20-1. Peterborough, which is the new kid on the block this year having been granted a short-term Bags contract, is rated 25-1 by Ladbrokes to claim the title.

Bags Track Championship
Ladbrokes: 4 Hove, Monmore, 6 Sheffield, 7 Newcastle, Romford, 8 Swindon, 14 Belle Vue, 20 Crayford, Hall Green, 25 Nottingham, Oxford, Peterborough, Poole, Sittingbourne, Yarmouth, 33 Kinsley, Perry Barr, Sunderland (e/w 1/4 1,2,3).