Monday round-up: Sky soars at Yarmouth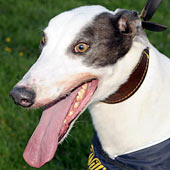 Taylors Sky: Fastest of the quarter-final winners at Yarmouth
PICTURE:
STEVE NASH
YARMOUTH staged four second round heats of the Ladbrokes East Anglian Derby on Monday night and fastest going forward to Saturday's semi-finals is Taylors Sky.

The first eliminator saw Kent Derby winner Ballycower Dave turn in front but, after running wide off the final bend, he was overpowered by Charlie Lister's 2011 Derby hero Taylors Sky (11-10F) who kept on gamely to record 27.40sec. Fifis Legend ran on well to snatch second spot from his kennelmate - the front three were clear.

Heat two was dramatic. 4-9 favourite Loughteen Blanco was left at the start and produced a minor miracle to qualify in third spot behind Mark Wallis's 33-1 winner Darian Chief (27.71sec).
'Blanco' was able to scramble third when the unfortunate Lenson Mac went lame in the back straight and then Jordans Chris was forced to check at the third bend. Helenas Sailor, who had led to the third bend, finished second.

Millwards Matt (9-4JF) was a game winner of heat three. Paul Young's wide didn't have the best of starts but paced up well. He then had a titanic battle with You Mind Me and, just when getting on top off the final bend, then had to hold the rallying Pennys Midas to score by a neck in 27.62sec.

Heat four saw a command performance from Bubbly Phoenix (4-5F). Paul Young's charge had the pace to just clear his field at the first bend and, aided by trouble behind, was away and gone from halfway to record 27.43sec.
Boher Paddy gave pursuit to finish second while third spot, and a place in the semis, went to Guinness Dusty.
SEMI-FINALS – SATURDAY 15th SEPTEMBER 2012
First Three in Each Semi Final Qualify for The Grand-Final on Thursday 20th September
First Semi Final
1 Taylors Sky Charles Lister OBE Unattached
2 Pennys Midas Ray Pleasants Yarmouth
3 You Mind Me Frank Taylor Unattached
4 Ballycowen Dave (W) Chris Allsopp Monmore
5 Helenas Sailor (W) Kelly Findlay Sittingbourne
6 Millwards Matt (W) Paul Young Romford
Second Semi Final
1 Loughteen Blanco Seamus Cahill Hove
2 Darian Chief Mark Wallis Yarmouth
3 Boher Paddy Charles Lister OBE Unattached
4 Fifis Legend Chris Allsopp Monmore
5 Bubbly Phoenix (W) Paul Young Romford
6 Guinness Dusty (W) Seamus Cahill Hove
The Stadium Bookmakers 480m Trophy final, which was the highlight on the
NOTTINGHAM
card , was won by Lynn Cook's Dromana Max who made all and narrowly held on to beat Droopys Alfie by a head in 28.86sec.
The programme also included heats of two competitions (finals Saturday). The Dual Distance heats, run over 500m (final 680m), were won by Imperial Boy (5-1), who cracked out and made all in 29.83sec, and Conkon (4-5F) who came from just off the pace to record a slower 30.26sec.
Two red-hot sprint heats went to Lissom Jack (7-1) who made all in 17.80sec and the classy Drumcove Lad (1-5F) who, despite a missed break, stormed to an easy 17.62sec success.
Three heats of the Coral On TV Maiden Trophy were the highlight of the Bags card at
ROMFORD
for which Friday's £750 shoot-out can be seen live on RPGTV.
Heat one saw Dave Mullins' Alis Avenger (7-2) break best and, with the advantage of an inside run and a little crowding outside, skip clear off the second bend to record 24.42sec.
Kelly Findlay's Rockchase Jamo (6-1) showed superior early pace to dominate heat two in an identical 24.42sec while the third eliminator saw Ernie Gaskin's Lisloose David (4-1) show grit and determination to wear down Severn Bolt in a time of 24.63sec.
**
Draw for Friday's final
:
1 Alis Avenger, 2 Rockchase Jamo, 3 Severn Bolt, 4 Fahy Pine, 5 Lisloose David (m), 6 Dandy Dude (w).