Mark My Words roars to Monmore Classic victory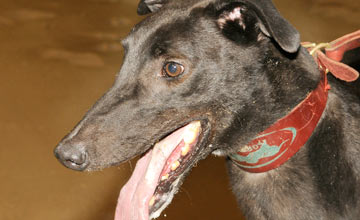 Mark My Words: Won the Ladbrokes Summer Stayers Classic at Monmore
PICTURE:
STEVE NASH
PAUL SALLIS, who has his first Monmore graded runners on Thursday next week, celebrated his switch from Hall Green in style when his Mark My Words (5-2) flew out and made all to land the 630m Ladbrokes Summer Stayers Classic final at Monmore on Friday afternoon.
It was race over at the boxes, with joint-owner Mark Beverley joyously screaming his dog home 'knowing' exactly that. "I'm more breathless than the dog!" he exclaimed after.
It was a procession with Westmead Maldini, the favourite, always second, and Ballentine Molly third from the first bend. Killieford Blaze walked out, and was involved in first bend trouble with Granard Bound. Clerihan Bound was run off his feet.
Sallis added: "It was crucial getting drawn inside Maldini in a final where what led would win, fortunately it was us – and when you do break, trap one with the short run to the bend is a massive edge."
Mark My Words clocked a fast 37.50sec in winning by three lengths – and he had improved through the event.
Beverley, who owns the dog jointly with Amy Woodhead and Mike Davis, said: "I don't think we'll go to Sunderland – Paul is looking at the Sussex Cup."
Inside runners got the rub of the green in earlier deciders with Ian and Nicola McGinnis's Rockburst Pearl (5-4J) holding her position well for Matt Dartnall as the rest bunched in the 480m bitches final
Dartnall said: "I love it when a plan comes together – and it was Ian's plan to come here. When you get a bitch in form, you really want to take in as much as you can, so I think we'll have to take a look at Sunderland now."
Joint-favourite Mutual Decision had come away here but was immediately caught up in bunching, with Droopys Cinders and Cerrise marginally heading the field, before Rockburst Pearl (28.26sec) burst though on the rails at the turn to beat Cerisse by a length and a half.

Stuart Mason's Graigues Orchard (6-1) gamely battled through at the last in the dogs' event.
Kennelhand Mick Hugill said: "He did really well from a tricky looking position, showing great pace down the back. He ran well through the Derby and deserves this for Trevor [Burfitt, owner].
Freedom Chief got no sort of run as the field bunched early. Milestone Apache soon led for Julie Bateson, but Chris Allsopp's Penrhiw Guto, always close up, took it up out of the second – incidentally the Welsh name refers to Penrhiw near Barmouth, and Guto means Morgan.
However Graigues Orchard got a lovely run despite being involved in the early crowding and came through to score by a neck in 28.39sec.
Go Go Sonic and Whitefort Mac ended up getting forced very wide at the first.
It was the turn of a seed, Corren Price's local Tuttles Maldini (4-1), in the 416m final, who led down the back after trouble stopped hot-pot Wells Honour in his tracks.
He got badly pinched back as Raise Me Up (trap 4) cut in and Headford Jack held in position from two.
Bower Laramie tried to scoot clear from red, but Tuttles Maldini after getting crowded himself showed great speed out of the second and went clear at the third for a two lengths win in 24.50sec.
Kennel spokesman Frank Wright said: "He's the winning-most dog over 416m here, so it was hardly a surprise.
"We're delighted for his owner, Tommy Murphy, who watched the race in a betting shop somewhere in Co Limerick – he's chuffed to bits."