Maldini is on course for Monmore Classic glory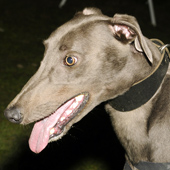 Westmead Maldini: Has been in Classic form at Monmore
PICTURE:
STEVE NASH
WESTMEAD MALDINI will go into Friday's £7,500 Ladbrokes Summer Stayers Classic final as the one to beat following another command performance at Monmore yesterday afternoon.
Nick Savva's ace again broke well from red and was able to muscle his way around in front and then quickly put the race to bed.
Always holding a winning advantage over the game Granard Bound, he won by three lengths in 37.86sec.
Mays Gold had set a fast and furious pace in the first semi but was overpowered by Julie Bateson's Killieford Blaze (37.95sec) from the fifth bend and then mugged for silver on the line by the rallying Ballintine Molly.
Mark My Words showed tremendous middle speed to land heat three and race into yet another competition final.
Paul Sallis's black, who surged clear off the third bend, clocked 38.08sec in beating the underrated Clerihan Gold by almost six lengths.
A fantastic Summer Festival programme also included heats of three other competitions included a £2,000 Bitches event for which Chris Allsopp's Atouchofvenus set the bar at 28.49sec with an impressive all-the way success in the opener.
However that effort was surpassed by Craig Dawson's Mutual Decision who clocked 28.26sec when making all in heat two.
Ante-post favourite for this white-hot event, the Premier Fantasy whelp, who has previously won the Winter and Spring festival competitions here, made it 11 wins from 19 career starts and is well on course for a unique hat-trick.
Heat three was billed as a showdown between Harry Crapper's Bansha Mo and Matt Dartnall's Rockburst Pearl.
However, the latter got the all-important first run and was able to make all in a superior time of 28.18sec. A persistent Droopys Cinders took the silver with Bansha Mo running well but only managing third.
Top of the pops in the 480m Dogs competition was Freedom Chief.
Katie O'Flaherty's strapping black, who went to post for heat three, bulldozed his way to the front at the first bend and was always in control thereafter - beating Milestone Apache in an impressive 28.14sec.
Chris Allsopp's Penrhiw Guto, third in the recent Stud Book final over C&D, showed pace and trackcraft to take heat one in 28.23sec.
In heat two Paul Sallis's Go Go Sonic showed the greater determination to beat Graigues Orchard by three parts of a length in 28.51sec.
The 416m event is generally regarded as a competition for C&D specialists with the short run to the turn demanding of a fast break.
Corren Price's Tuttles Maldini circled his field to take the opener in 24.73sec while a ping break and crowding on the rails allowed Ken Bebbington's Clonlost Michael to storm clear (24.79sec) in heat two.
The line-up for Friday's final was completed when Craig Dawson's Wells Honour produced an impressive all-the-way romp to beat the odds-on Raise Me Up by six lengths in a flying 24.31sec.

Draws for Friday's finals:
Stayers Classic: 1 Mark My Words, 2 Westmead Maldini, 3 Ballintine Molly (m), 4 Killieford Blaze (m), 5 Granard Bound (w), 6 Clerihan Gold (w).
Bitches: 1 Rockburst Pearl, 2 Droopys Cinders, 3 Cerrise, 4 Mutual Decision, 5 Saleen Crackers, 6 Atouchofvenus (m).
Dogs: 1 Penrhiw Guto, 2 Graigues Orchard, 3 Freedom Chief, 4 Milestone Apache (m), 5 Go Go Sonic (w), 5 Whitefort Mac (w).
416m: 1 Bower Laramie, 2 Headford Jack, 3 Wells Honour, 4 Raise Me Up, 5 Tuttles Maldini (m), 6 Clonlost Michael (w).