Magic Maldini storms to Classic Monmore success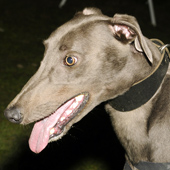 Westmead Maldini: Very impressive in the Ladbrokes Summer Stayers Classic heats at Monmore
PICTURE:
STEVE NASH
WESTMEAD MALDINI produced a stunning performance to blow away some smart opposition in heat two of the Ladbrokes Summer Stayers Classic at Monmore Green on Monday afternoon.
The contest was over in the blink of an eye when Nick Savva's Essex Vase champion pinged the lids and turned the first corner two lengths clear.
Going through the gears with a circuit to go, he left the useful pairing of Mays Gold and Clerihan Gold chasing shadows for a comprehensive victory in a flying 37.71sec.
The £7,500 to-the-winner Category One competition got under way at 2.08 and favourite backers must been feeling pretty pleased with themselves when Charleys Noire surged into an early lead in the opener.
However, July Bateson's Killieford Blaze (5-1), who showed serious acceleration in the straights, clearly had her measure on this occasion and ran out a ready winner in a time of 38.20sec.
Mark Wallis's Swift Reagan (5-1) made all of the running to land heat three in 38.07sec. Hiding Escort rallied to snatch silver from Jazz Apollo who, following an early setback, had shown a lot of middle speed to get into contention.
Mark Wallis recorded his second win in the competition when his Dixies Air (6-4F) broke best and took charge in heat five.
Always in the clear, the February 10 whelp stayed on well enough to beat the rallying Farley Zach by two and a half lengths in 38.02sec.
Wallis completed a treble when his Ballintine Molly (6-4F) was able to establish an early lead in heat six and then keep up a relentless pace to beat Springbok winner Westmead Melanie in a time of 38.03sec.
The fourth heat had seen Stewart Mason's Granard Bound (4-1) show good early pace and make all in an impressive 37.90sec. Despite visibly slowing at the sough, he quickly regained momentum to fend off Mark My Words who was eventually outstayed for second spot by Peggys Style.

Draw for next Monday's semi-finals:
First: 1 Ballintine Molly (m), 2 Killieford Blaze (m), 3 Mays Gold (m), 4 Swift Freeze (w), 5 Hiding Escort (w), 6 Charleys Noire (w).
Second: 1 Westmead Maldini, 2 Rusheen Major, 3 Dixies Air, 4 Jazz Apollo, 5 Swift Reagan (w), 6 Granard Bound (w).
Third: Westmead Melanie, 2 Luminous Park, 3 Mark My Words, 4 Farley Zach, 5 Clerihan Gold (w), 6 Peggys Style (w).