Maestro is masterful and George is back on track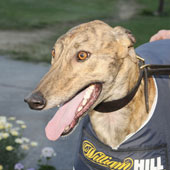 Razldazl George: won his second round heat at Shelbourne Park
PICTURE:
STEVE NASH
SPARTA MAESTRO, sent off 2-7 favourite, was expected to win heat 14 in the second round of the Ladbrokes Irish Greyhound Derby, but it was still a stunning performance by Phil Gough's charge over Shelbourne Park's 550 yards course all the same.
Powering clear in the second half of the race, he scored by fully eight lengths from Sawdust Terry in the best time of the competition to date, 29.43sec.
Next up was reigning champion Razldazl George and Dolores Ruth's dog did not disappoint in heat 15 in the battle of Derby winners, outstaying this year's Scottish hero Barefoot Allstar to win in 29.83sec.
And there was a cracking run to finish round two with Graham Holland's Cabra Millie overcoming an apparently adverse draw in six when leading early to win in 29.50sec.
Racing was delayed after the first heat of the evening won by Pat Guilfoyle's Laughil Billy in 29.89sec to allow those present to watch the Olympics bantamweight final in which Ireland's John Joe Nevin was shaded by Britain's Luke Campbell.
When it resumed the verdict in heat 10 went emphatically to Michael O'Donovan's Tynwald Bolt who forged clear from halfway to win by five lengths from Tyrur Justin in 29.63sec.
Sole British entry Sawpit Sensation made it through from heat 11 although he had to settle for third behind Newlawn Tock (29.71sec), while heats 12 and 13 went to Danmar Benny (30.04sec) and Camas (29.82sec) respectively.
Draw for next Saturday's third round:
HEAT 1
1 Melodys Lucky
2 Barefoot Allstar
3 Cuil Cougar
4 Tynwald Bolt
5 Sawpit Sensation (m)
6 Stay Thirsty (w)
HEAT 2
1 Head For Fame
2 Clydal Spirit
3 Tyrur Justin
4 Razldazl Apollo
5 Star Head (m)
6 Dusseldorf (m)
HEAT 3
1 Razldazl Luke
2 Killbarry Rover
3 Lolos Joe
4 Airforce Diva (m)
5 Forest Ralph (w)
6 Sparta Maestro (w)
HEAT 4
1 Broadstrand Lad
2 An Tochar Master
3 Tyrur Domingo
4 Subway Ruth
5 Razldazl George
6 Dragon Shield
HEAT 5
1 Coolykereen Imp
2 Tibetan Skies
3 Tyrur Sugar Ray
4 Newlawn Tock
5 Droopys Cain
6 Sawdust Terry (w)
HEAT 6
1 Cabra Millie
2 Ballymac Vic
3 Lahern Dancer
4 Tyrur Micko
5 Laughil Billy (m)
6 Toms Brett (w)
HEAT 7
1 Confident Rankin
2 Danmar Benny
3 Razldazl Rioga
4 Ferdia Oscar
5 Slick Seattle (m)
6 Camas (w)
HEAT 8
1 Skywalker Puma
2 Droopys Jet
3 Razldazl Bugatti
4 Tyrur Wozniacki
5 Cian Jamie (m)
6 Crossfield Star (w)
**At Yarmouth, Ray Pleasants's Pennys Midas, third in the Peterborough Derby final behind Lil Risky seven days earlier, was quickest in the heats of the Carling East Anglian Challenge when taking the opener in 27.68sec.
David Pruhs's Extremely just pipped Bittles Bar when landing heat two in 27.91sec, while the third saw Philip Simmonds's Trevi You Go outstay Ayamzaman to win in 28.15sec.
**Crayford's long-running jackpot pool was finally beaten with four winners each receiving £10,100, but Sheffield's survived again and will next be up for grabs on Friday.