Longwood Hawk fastest before racing Saturday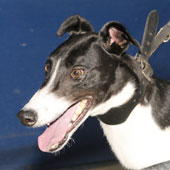 Taylors Cruise: pacey run despite trouble and can be considered highly unlucky loser
PICTURE:
STEVE NASH
Weather: cloudy, breezy, course watered
Trial by trial comments from before racing are given below, plus a race by race view on each Derby trial stake.
*Latest count of entries for the WIlliamHill.com Derby (closes noon Wednesday) is 30; some 50 runners have been booked for trials Wednesday - including Eden Star.
8.08pm Rab McNair predicted Millroad Scolari would run well here after a good trial behind King Jaffa Wednesday and he was spot on, his dog was always going well and at the threequarters picked up Guinness Kev, who had trapped and led to the third in 28.70sec. Romeo Recruit, crowded at half way, ran on well for second, beaten two and a half lengths. Whata Lovely Job was baulked at the first. Tain Cu slow away.
8.25pm A turn up with Droopys Patsy, 12/1 in the ring, slipping clear early as Kirkland Black moved wide early, bunching the field up, then Brinkleys Flyer, Handy Manny and Lenson Johnny badly collided at thebend. Kirkland Black and Leos Options (money in the ring, 13/8 into 6/4) were the only ones left in pursuit, with the latter closing from the third and then motoring on the run for home, only going down by a short head. There's another good, noisy crowd so the time is hard to hear. It's 29.04sec
Tractor went round, with some water freshening the course

8.41pm Another surprise, with Deanridge Viking, at 14/1, leading early and then chopping the field off at the turn. Droopys Jet (backed in the ring) lost his chance there, with Tyrur Justin, who hade gone up fast, baulked. He showed a lot of speed down back the back but was crowded at the third, eventually beaten three lengths by the 28.60sec winner. Romeo Patriot had been left. Lenson Mac moved middle at the boxes and collied with Westmead Adonis.
9.00pm Things are not going well for short priced punters, with Westmead Shaw (8-1) going clear early. Freedom Chief went up fast but then checked off, forcing Irish raider Shelbourne Geoff to go very wide. Boxie, who had broken slowly, was crowded at the bend at the tail end of the trouble. Ruthless Man had been left. Taylors Cruise showed a lot of pace and after first bend bumping, was stopped in his tracks again at the third bend and can be counted unlucky, going down threequarters of a length in 28.85sec
tractor went round
9.15pmA favourite! Rio Torino impressed here. He had looked a shade unlucky last week behind Droppys Lorenzo, and this time held his position well into the bend, railed neatly and kicked clear (moved wide fourth as he tired a shade) for a two lengths win in 28.63sec. Holloway Road went up well and was shuffled slightly with King Bradley - who was baulked on the second. Tain Flip and Romeo Scout were slow away. Cloheena Cashlooks some way short of his best.
9.30pm Malbay Phanter also looked good, showing real speed to overhaul King Jaffa, who had trapped, before the bend and then kicking on out of the second to score by two and a half in 28.57sec Bucks Blade was again slow away, but not as badly as last week.

*Smart Bid was fastest (25.09sec) at Peterborough on Saturday. The track will make Friday's semi-final draw for the Bettor.com Puppy Derby at the Greyhound Board on Monday.
Trials results are in trap order; winners are marked in bold
480m trials Wimbledon Saturday April 14
trial 1 2 Brae Boy (Fraser Black, Ire) 2nd led to second, rails
4 Airforce Roger (Ricky Holloway) 3rd crowded and middle first, baulked third, kept on
6 Go Go Sonic (Paul Sallis, HG) wide, led second, won well 28.70sec three lengths, short head
1 Longwood Hawk (Colin Callow) early pace, crowded and led first, rails 28.57sec five lengths
3 Longwood Days (Callow) 2nd just led to first, cut in and baulked, checked third, rails
1 Express Trend (Liz McNair) early pace, rails, baulked first, crowded third, wide fourth and led run in 29.12 threequarters and two lengths
3 Fawkham Rocky (Barry O'Sullivan, Cray) 3rd bumped first, crowded third, rails to middle
5 Lenson Ginger (Tony Collett, Sitt) 2nd early pace, soon led to run in, cut in and baulked first
2 Caribbean Rich (Bob Hall, HG) soon clear, rails 28.85sec three and threequarters
4 Caribbean Jet (Hall) 2nd middle
1 Mark My Words (Paul Sallis, HG) always led, well clear from first, rails to middle 28.67sec nine and half lengths, half a length
3 Fizzpop Supreme (John Martin, Ire) 3rd, early pace, cut in and hit rails first, rails to middle after
5 Kish Whistler (Paul Garland) 2nd baulked quarter, middle, stayed
A similar service will operate Wednesday, when the Derby closes at noon, and also before racing next Saturday 21st. The draw, 1pm Sunday 22nd, will also be carried here live.