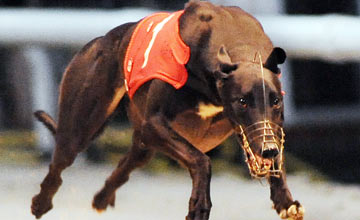 Jaytee Lightning: won at Shawfield and Sheffield in a busy week!
PICTURE:
STEVE NASH
Lark fastest in heats for the Scottish Derby
GREENWELL LARK, fifth behind Ballymac Eske in the final last year, was the standard-setter in the Ladbrokes Scottish Derby over 480m at Shawfield.

Pat Flaherty's bitch was odds-on and heat two and justified her position in the market with an all-the-way victory over Lemon Pumba in 29.14sec.

The competition had started with a bang when Carol Weatherall's Holden Spy flew through the field along the back straight in the opening heat.

He had been very slowly away but just about got round the first bend without major incident and unleashed a trademark burst from two to three.

Hitting the front at the penultimate turn, Holdem Spy drew clear to beat Lagganmore Milan by six lengths in 29.40sec.

Calzaghe Jack struck for the railers in heat three with Ted Soppitt's dog getting first run on Exocet in 29.54sec, while Paul Young's Jaytee Lightning took heat four in similar style in an even more impressive 29.24sec.

Craig Dawson's Monmore Puppy Derby champion powered to heat five victory in 29.20sec, while Laurels winner Mileheight Alba tired a little late on in the finale but Pat Rosney's dog held off Spirit Sir Henry in 29.62sec.

Draw for Saturday's semis - first: 1 Holdem Tight, 2 Mileheight Alba, 3 Metro Jack, 4 Greenwelll Mentor (w), 5 Holdem Spy (w), 6 Tarbrook Taetoe (w).

Second: 1 Lemon Pumba, 2 Farloe Nutter, 3 Calzaghe Jack, 4 Toolatetosell, 5 Cashen Maureen (m), 6 Exocet (m).

Third: 1 Jaytee Lightning, 2 Spirit Sir Henry, 3 Strategic Review, 4 Lagganmore Milan, 5 Mind The Net (m), 6 Greenwell Lark (w).