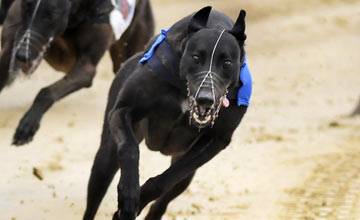 Massive blow as injury intervenes and rules out Kereight King
PICTURE:
STEVE NASH
Kereight confirmed as out of Irish Derby final
A huge cloud was cast over the ETS Irish Derby late on Saturday night when it emerged that Kereight King had sustained a serious toe injury and will miss next Saturday's final of the classic at Shelbourne Park.
This means it will be a five-dog race with trap four vacant and the immediate reaction of the firms was to make Ballymac Vic the best priced 2-1 favourite despite finishing second in his semi-final to Cabra Buck.
Pat Curtin, the trainer and joint owner of Kereight King, was devastated by the injury. Speaking yesterday as he made his way to Croke Park to cheer on his native Clare in the All-Ireland Hurling final, Curtin said, "It was terrible. One moment we were in the Derby final and I said to Gerry (Hughes, fellow owner) 'we'll win the Derby now'. Then Bridget (sister) said to me that there was a problem.
"I knew straight away that the Derby dream was over. The bone was sticking out of the skin on the toe and the vet said it was the worst toe break he had seen in 50 years at the track. He was a very brave dog to qualify in the circumstances but I don't want to dampen the final for the other owners and trainers. This is part and parcel of sport and we wish them the very best of luck in the final".
Kereight King will be operated on by Brian Jones this morning and hopefully we will see the brilliant tracker back in action in 2013.
There is also a slight cloud over Ballymac Vic as Liam Dowling revealed that the dog's paw opened again. "It's not as bad as it was and he will definitely run unless he picks up an infection. The poultice is back on but he has now missed three weeks' work but there is nothing we can do about that, our hands are tied".