Hills cut Taylors Sky to 2-1 after support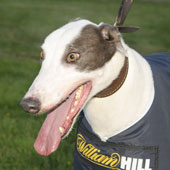 Hills went 5-2 Taylors Sky for his quarter-final at 8.30am Tuesday
PICTURE:
STEVE NASH
Hills Press release: Razldazl Jayfkay and Bubbly Phoenix will face off in a slamming quarter-final clash of the williamhill.com Greyhound Derby on Tuesday night, with the ante-post heavyweights priced at 11-10 and 5-2 respectively to come out on top at 9.10pm.
Proceedings stepped up a gear with 48 dogs becoming 24 last Saturdayevening at the third-round stage – ante-post market-leader Jayfkay maintained his unblemished record with success in the second heat, although sponsors William Hill eased Dolores's star to 7-2 from 5-2 in the outright market, while Bubbly Phoenix was cut to 6-1 from 8-1 after clocking the flashiest time of the round.
The opening quarter on Tuesday sees reigning champion Taylors Sky – at an enhanced Tuesday morning price of 5-2 with Hills - attempt to hold back the Razldazl charge of Rioga and Bugatti (both 9-4), and in the second qualifier, Young Sid (7-2) and Judicial Ruling (3-1) tackle the gutsy Shelbourne Geoff (10-3). They later cut Taylors Sky to 2-1.
William Hill spokeswoman Lucy Rhodes said "Things get serious on Tuesday when 24 bid to book one of only 12 tickets to the semi-finals, and with the two big-guns Jayfkay and Taylors Sky still in the mix plus some exciting newcomers to the fray, sparks are sure to fly"
Heat 1
Taylors Sky (5-2) now 2-1

Razldazl Rioga 9-4
Longwood Hawk 8-1
Razldazl Bugatti 9-4
Trewmount Snap 25-1
Droopys Lorenzo 8-1
Heat 2
Coolavanny Bert 3-1
Tinas Nova 10-1
Farloe Ironman 10-1
Young Sid 7-2
Judicial Ruling 3-1
Shelbourne Geoff 10-3
Heat 3
Droopys Loner 10-1
Mill Maximus 7-1
Longwood Days 25-1
Boher Paddy 9-2
Bubbly Phoenix 5-2
Razldazl Jayfkay 11-10
Heat 4
Mark My Words 10-1
Graigues Orchard 11-2
Bucks Blade 4-1
Droopys Jet 15-8
Westmead Adonis 6-1
Blonde Snapper 11-4
williamhill.com Greyhound Derby (sponsors bet): 7-2 Razldazl Jayfkay, 6-1 Bubbly Phoenix, 8-1 Taylors Sky, 12-1 Boher Paddy, Droopys Jet, Razldazl Bugatti, 14-1 Judicial Ruling, Shelbourne Geoff, Young Sid, 16-1 Coolavanny Bert, Razldazl Rioga, 20-1 Mill Maximus, 25-1 Blonde Snapper, 33-1 Bucks Blade, Farloe Ironman, Longwood Hawk, Westmead Adonis, 40-1 Droopys Lorenzo, 50-1 Graigues Orchard, Tinas Nova, 66-1 DroopysLoner, 100-1 Longwood Days, Mark My Words, 150-1 Trewmount Snap (EW ¼ 1,2,3,4)
HILLS SPECIALS
Winning Nationality
Irish 10/11
British 10/11
Any Greyhound to break 28.00sec during the 2012 Greyhound Derby: 7/2
Track Record to be broken for a second time in a heat of the 2012 Derby: 2/1
Any Greyhound to REACH the Derby Final without winning a round: 4/6
Any Greyhound to win the Derby final without winning a round: 40/1
Winning Prefix
Razldazl 7/4
Droopys 10/1
Mill 20/1
Farloe 33/1
Westmead 33/1
Battle Of The Sexes (gender of winning trainer)
Male 2/5
Female 7/4
Winning Trap
Trap 1 6/1
Trap 2 5/1
Trap 3 5/1
Trap 4 6/1
Trap 5 5/1
Trap 6 5/2
Top Charlie Lister Runner
Taylors Sky 5/4
Boher Paddy 6/4
Bucks Blade 7/2
(other runners eliminated)
Top Dolores Ruth Runner
Razldazl Jayfkay 1/3
Razldazl Bugatti 9/2
Razldazl Rioga 6/1
Top Irish Trained Runner
Razldazl Jayfkay 10/11
Droopys Jet 6/1
Judicial Ruling 6/1
Razldazl Bugatti 6/1
Shelbourne Geoff 6/1
Razldazl Rioga 7/1
Tinas Nova 20/1
Winning Seed
Rails 4/5
Middle 6/1
Wide 6/4
Taylors Sky & Razldazl Jayfkay Greyhound Derby Reverse Forecast: 25/1
Winning Trainer of the Greyhound Derby 2012
D Ruth 7/4
P Young 9/2
C Lister OBE 9/2
D Childs 33/1