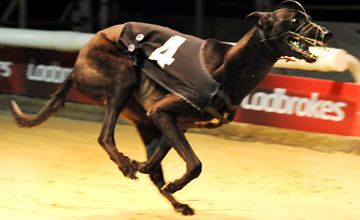 Paul Young's Underground Paul picjed up an injury at Kinsley
PICTURE:
Steve Nash
Future looks brighter for injured Underground
UNDERGROUND PAUL, who suffered a bad fall in the opening heat of the Gymcrack at Kinsley on Sunday, sustained a fractured shoulder in the process but trainer Paul Young was able to offer an upbeat prognosis.
"I think we all feared the worst when we saw the fall," said Young of last week's Trainers' Championship puppy winner at Yarmouth, "but he was made comfortable at the track and I got him to [vet] Daniel Doherty's first thing Monday morning.
"Daniel x-rayed him and you can see the fracture, but it's clean and apparently should heal naturally with time. He's a sensible dog so is likely to be a good patient and he has time on his side being so young, so we'll just give him as long as he needs.
"All going well he should make a full recovery in three to four months time, and we'll hopefully see him back on the track again which is far, far better news than I thought it would be."