Friday's Wimbledon Derby heats 1-11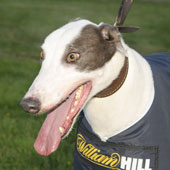 Taylors Sky: Goes in heat seven of the williamhill.com Derby
PICTURE:
STEVE NASH
Coolavanny John was withdrawn lame at 11.42am Sunday (entry fee refunded).
That leaves 131 entries. The draw produced 22 heats, 11 apiece Friday and Saturday.
There are eight heats where the first FIVE qualify,
and 14 heats where the first FOUR qualify. One of those heats will be for five runners only.
There are 16 sets of guards (greyhounds in the same ownership) which are required under the rules to be kept apart.
Paul Illingworth and Duncan Gibson of the Greyhound Board oversaw the draw. Gary Matthews, Wimbledon's Racing Manager, officiated.
FRIDAY MAY 27
WilliamHill.com Derby First Round heats 1-11
(Saturday's heats 12-22 will appear on a separate file)
These heats have FIVE qualifiers 1, 2, 3, 4, 7, 18, 19, 21
all others have four qualifiers, heat 13 is for five runners only.
Heat 1 (five qualify)
1 Landown Lenny
2 Droopys Bach
3 King Jaffa
4 Bombolin
5 Trewmont Snap (m)
6 Malbay Phanter (w)

Heat 2 (five qualify)
1 Holy Ground
2 Jazz Apollo
3 Benkaat Boy
4 Fawkham Rocky
5 Farloe Mysterio (w)
6 Bubbly Pheonix (w)

Heat 3 (five qualify)
1 Ballymac Cryan
2 Killacodra Pedro
3 Longrange Ivor
4 Barefoot Allstar
5 Razldazl Bugatti (m)
6 Hernandez (w)

Heat 4 (five qualify)
1 Mark My Words
2 Goa Getta
3 Westmead Shaw
4 Droopys Vito (m)
5 El Clyde (m)
6 Silverview Perky (m)

Heat5 (five qualify)
1 Farloe Iceman
2 Blonde Snapper (m)
3 Fairway Fusion (m)
4 Farloe Luigi (w)
5 Boxie (w)
6 Go Go Sonic (w)

Heat 6
1 Lenson Ginger
2 Razldazl Rioga
3 Head Iton Haysey
4 Mill Bling Bling
5 Droopys Boo (w)
6 Pittsburgh Glory (w)

Heat 7 (five qualify)
1 Caribbean Gem
2 Taylors Sky
3 Cash Game
4 Diesel Malc
5 Brae Boy
6 Jaytee Pedro (m)

Heat 8
1 Whata Lovely Job
2 Castlebride Dan
3 Brinkleys Flyer
4 Holloway Road
5 Skywalker Gold (w)
6 French Blue (w)

Heat 9
1 Franksbrunosbro
2 Movealong Dash (m)
3 Deanridge Viking (w)
4 Freds Champ (w)
5 Shelbourne Geoff (w)
6 Boher Chieftain (w)

Heat 10
1 Dream Walker
2 Dippy Doo
3 Tynwald Bolt
4 Big Step (m)
5 Tyrur Justin (m)
6 Burst of Magic (m)

Heat 11
1 Broadway Magic
2 Westmead Adonis
3 Doonane Lad
4 Droopys Trump (m)
5 Razldazl Houdini (m)
6 Razldazl Jayfkay (w)