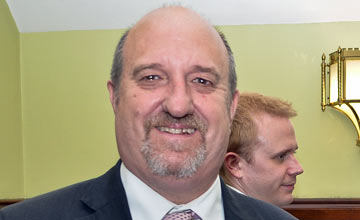 Barry Faulkner: progress needed to survive
Financial progress the aim from Deloitte review
GBGB chief executive Barry Faulkner has unveiled Deloitte's long-awaited review, 'The Economic Impact of the British Greyhound Racing industry 2014', with the message that "financial progress is required to survive".
The GBGB commissioned the consulting firm to provide a thorough analysis of the greyhound industry's financial standing, and Faulkner said: "Deloitte has produced a comprehensive report which will prove invaluable as we seek to move the industry forward.
"The report highlights the importance of greyhound racing to the betting industry and, in equal measure, how the present method of financing the industry is no longer sustainable.
"This is not only evident but compounded by the recent decision of Betfair, who make a substantial sum from the sport, to contribute nothing to the Fund.
"In order for the industry to thrive rather than just survive financial progress is required to maintain integrity standards, support greyhound rehoming initiatives, assist with residential kennel maintenance and enhancement, continue veterinary and welfare research, and help to finance improvements to racing and customer facilities at stadia.
"Greyhound racing will then be better placed to promote itself by encouraging greyhound ownership, including enhanced prize-money, supporting British breeding and developing industry training programs."
Looking to the future, he said: "It is essential that British greyhound racing and the off-course betting industry work closely to agree a fair and equitable division of profits made from betting on the sport to the benefit of all.
"If the sport is to grow and thrive all stakeholders must work together. This report demonstrates that we have so much to offer due in no small part to many committed and hard working individuals. The sport needs a fair reward."
JIM CREMIN's precis (link to full report)
DELOITTE'S review, The Economic Impact of the British Greyhound Racing industry 2014, shows a struggling sport, with trainers on the breadline, tracks in general making marginal profits, but the betting industry doing relatively well.
Barry Faulkner, chief executive of the Greyhound Board of Great Britain, said: "It's a snapshot of the economic impact of greyhound racing, how much is generated and how much it costs based on available data in the first quarter of last year."
Deloitte consulted with 15 different organisations involved in the industry.
Key numbers cited in the review are £1.3bn off-course betting turnover, with £237m gross profit for bookmakers and £119m core greyhound industry income from all sources. There are just under 5,000 fixtures staged annually in front of 2m spectators, with 4,000-plus owners and more than 7,000 people directly employed. This figure does not include those within the betting industry.
The core industry income of £119m involves £34m from off-course betting (£26m in Bags fees, £8m in Fund income), £14m from on-course betting – principally the totes owned by racecourses – and £37m spent by racegoers.
There is another £8m from further commercial income including sponsorship and non-greyhound commercial activity.
Owners put in £26m to keep 8,000 greyhounds in training annually – the capital cost of purchase is extra – and after prize-money of £14.5m is received, the net contribution made by them is £17m. Because 37 per cent of the greyhounds are owned by trainers, they are part-funding the show themselves to the tune of £5.5m.
This 37 per cent level of ownership by trainers is seen as a key challenge for the sport. Deloitte reports owners, in addition to concerns over prize-money (there is just a 35 per cent recovery of training costs), see the growth of trainer-owned greyhounds "as limiting the opportunities for new owners to enter the sport whilst contributing to a lack of good training options for existing owners".
The bookmakers' £237m gross profits last year is generated through an estimated 18 per cent margin on the turnover of £1.3bn. This is based on figures reported to the Gambling Commission.
"This margin," says Deloitte, "is significantly higher and is subject to much less volatility than for many other sports in LBOs [betting shops], which is a key attraction of greyhound racing for the betting industry. The ability to deliver such healthy, consistent margins is dependent to a large degree on Bags racecourses scheduling competitive graded races."
The £237m gross win is said to be just over one third of the total horseracing gross win. £168m of that number goes to bookmaker overheads and profits, £36m to the treasury in Gross Profits Tax, and £34m to greyhound racing in fees.
Citing findings from the GBGB's ownership survey, it was also noted that only 27 per cent of owners believe racecourses "made them feel valued" and with lack of investment in facilities and closures this led to 54 per cent to report that they did not feel confident about the sport's future.
Deloitte says: "It is a key industry focus to seek to reverse these trends and in turn retain existing owners and attract new individuals to the sport."
The average age of a trainer last year was 59, while 45 per cent of the 835 trainers were over 60, and only nine per cent 40 or younger. "Redressing this age spread is a challenge that the industry needs to face," argues Deloitte.
"The next generation of trainers needs to be encouraged to enter the sport to ensure its long-term health"
There has been a 14 per cent fall in trainer numbers in the three years since 2010, hardly surprising given Deloitte reports that "trainers are net contributors to British greyhound racing, putting more cash into the sport than they ultimately take out".
Deloitte adds: "It is difficult to estimate trainers' total expenditure given the diversity of business models and lack of available financial information . . . the figure of £30m has been derived through discussion with a broad range of trainers and means that in aggregate trainers are estimated to make a £3m loss pa from their greyhound operations.
"Part of this aggregate loss is attributable to the assumed loss of the smaller trainers who are more likely to be training as a leisure activity, but it is also likely that at least some trainers with more greyhounds are at best breaking even and/or only able to pay themselves very modest wages.
"Many trainers and their staff work long hours for comparatively limited financial rewards, demonstrating their dedication and commitment to the sport." The lesson for trainers is that they should seek more owners and charge them a realistic rate.
The growth of the online market is reviewed, including the impact of the exchanges but also in general.
This is said to offer a "a major funding challenge as only a very small number of such [online] betting operators make voluntary contributions and these are only negligible Bags payments stemming from it.
"A solution," says Deloitte, "needs to be found, otherwise the amounts paid to the Fund risk declining further, leading to threats to the industry and potential knock-on impacts to the betting industry if integrity, welfare of the sustainability of the British greyhound racing industry are harmed."
However, Deloitte also says greyhound racing remains a "key product for the betting industry and there are encouraging signs of stabilisation and
even improvement [thanks to the Sky deal] . . . it will be essential that the greyhound and betting industries work closely together, including on the agreement of a fair and equitable division of resulting profits".
Racecourses as a whole are said not to deliver a significant return to their owners "meaning limited funds are available for investment in facilities."
Deloitte says there are exceptions, with "some racecourses generating significant profits" but it is also "apparent that a number operate closer to break-even on any given year . . . it will be critical that racecourses offer all customers a high quality experience if they are to remain competitive and take advantage of improving economic conditions."
Deloitte highlights the importance of non-greyhound revenue at most tracks.
That issue is put into stark relief by the sudden closure of Coventry, which only survived as long as it did because of the financial support of Harry Findlay.
Deloitte warns: "A potential significant issue facing the industry is if commercial property values start to rise again following years of decline, some racecourse owners may judge that without major improvements to the funding of the sport, they would generate much higher financial returns from the sales of racecourses for alternative use."
Deloitte finds that "Most visitors to greyhound racing in Britain only attend once or twice a year, usually incorporating a restaurant offering.
If these people could be persuaded to return just one additional time, it would provide a significant boost to attendances and raceday revenues. Capturing all customers contact details to enable targeted and tailored marketing is key in achieving this goal."
The full report is available online from http://www.thedogs.co.uk/news-article.aspx?newsID=485