Eden Star is withdrawn from Greyhound Derby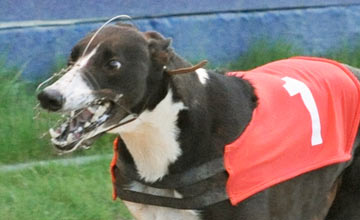 EDEN STAR: Is out of the williamhill.com greyhound Derby
PICTURE:
STEVE NASH
EDEN STAR, as short as 9-1 fourth-favourite for the williamhill.com Derby, tore a shoulder muscle during his first-round heat victory on Saturday, and has been withdrawn from the competition.
Trainer Barrie Draper said: "I've just come back from the vet's, and the advice is to leave him off for four to six weeks.I don't take chances with my dogs. It's just one of those things. I'm gutted."
Eden Star, winner of the Racing Post Juvenile Championship in
February, had been set to lock horns with defending champion Taylors Sky in round two on Friday.
**See Tuesday's Racing Post for full story.
WILLIAM HILL GREYHOUND DERBY BETTING – SECOND ROUND HEATS PLUS REVISED ANTE-POST
**With the much-anticipated clash between Eden Star and Taylors Sky now unfortunately not taking place, the sponsorsrevised the williamhill.com Greyhound Derby second round fourth-heat betting, where the defending champion is 3-10 favourite to score on Friday night.
An extended revised ante-post list is shown below, where Razldazl Jayfkay is now 5-1 market leader. Dolores Ruth's charge will star on Saturday evening and is hot 1-2 favourite to land his respective heat.
Charlie Lister's Boher Paddy tops a competitive heat 15 on Saturday at 11-10, and will face-off against kennelmate Silverview Perky (5-2) and the Mark Wallis-trained Blonde Snapper (10-3).
Saturday night will be crowned off when Bubbly Phoenix, who posted the fastest first-round time, takes on fellow round one winners Mill Bling Bling and Jaytee Pedro in the finale - and is 10-11 market leader to close the evening off with another victory for the Champagne Syndicate.
William Hill's Lucy Rhodes said "It's a real shame that Eden Star won't take his williamhill.com Greyhound Derby bid further, but the show must go on and there's still some stellar challengers in the mix queuing up in an attempt to de-throne Taylors Sky"
The first three from each heat will qualify to the next round on 12th May – which will be shown LIVE on Sky Sports.
As a gesture of goodwill, Eden Star will now be included in the first round free bet promotion, where all Hills customers who placed bets on the non-runner after the entry stage on Thursday will receive a refund.*
WILLIAMHILL.COM GREYHOUND DERBY – ROUND TWO HEAT BETTING
FRIDAY 4TH MAY Heat 1 – 20.00
Trap 1: Holy Ground 16-1
Trap 2: Taylors Cruise 7-2
Trap 3: Mill Maximus 13-8
Trap 4: Coolavanny Bert 13-8
Trap 5: Caribbean Gem 50-1
Trap 6: Rockview Head (m) 6-1
Heat 2 – 20.15
Trap 1: Farloe Iceman 11-4
Trap 2: Dixies Air 14-1
Trap 3: Bridge Bandit 14-1
Trap 4: Razldazl Rioga 13-8
Trap 5: Mags Gamble (m) 4-1
Trap 6: Farloe Mysterio (w) 7-2
Heat 3 – 20.30
Trap 1: Lenson Ginger 8-1
Trap 2: Droopys Trump (m) 16-1
Trap 3: Newtown Skiptipp (m) 5-1
Trap 4: Ruthless Man (m) 11-4
Trap 5: Shelbourne Geoff (w) 10-11
Trap 6: Lughill Paulo (w) 12-1
Heat 4 – 20.45
Trap 1: Eden Star NON-RUNNER
Trap 2: Taylors Sky 3-10
Trap 3: Mill Pegasus 7-2
Trap 4: Westmead Adonis 13-2
Trap 5: Farloe Luigi (w) 33-1
Trap 6: French Blue (w) 33-1
Heat 5 – 21.00
Trap 1: vacant
Trap 2: Bucks Blade 11-4
Trap 3: Tyrur Justin (m) 10-3
Trap 4: Stellars Blue (w) 25-1
Trap 5: Boher Chieftain (w) 10-3
Trap 6: Droopys Lorenzo (w) 6-4
Heat 6 – 21.15
Trap 1: Ballymac Cryan 9-4
Trap 2: Longwood Days 11-4
Trap 3: You Mind Me (m) 3-1
Trap 4: Go Go Sonic (w) 8-1
Trap 5: Pittsburgh Glory (w) 25-1
Trap 6: Freds Champ (w) 7-2
Heat 7 – 21.30
Trap 1: Farloe Ironman 15-8
Trap 2: Daddy Knowsbest 6-1
Trap 3: Tinas Nova 2-1
Trap 4: Goa Getta 16-1
Trap 5: Lenson Mac 10-1
Trap 6: Bit View Micko (w) 7-2
Heat 8 – 21.45
Trap 1: Tynwald Bolt 10-11
Trap 2: Jazz Apollo 7-2
Trap 3: Hey Gringo 33-1
Trap 4: Brinkleys Flyer 14-1
Trap 5: Razldazl Bugatti 10-3
Trap 6: Castlebride Dan(m) 7-1
SATURDAY 5TH MAY
Heat 9 – 20.00
Trap 1: Doonane Lad 10-1
Trap 2: Shelbourne Abi (m) 5-1
Trap 3: Big Step (m) 12-1
Trap 4: Share The Spoils (w) 9-2
Trap 5: Skywalker Gold (w) 9-4
Trap 6: Deanridge Viking (w) 13-8
Heat 10 – 20.15
Trap 1: Longwood Hawk 7-4
Trap 2: Bombolini 7-2
Trap 3: Mark My Words 9-2
Trap 4: Trewmount Snap (m) 5-1
Trap 5: Leos Options (w) 12-1
Trap 6: Romeo Patriot (w) 4-1
Heat 11 – 20.30
Trap 1: Romeo Recruit 11-2
Trap 2: Young Sid 5-4
Trap 3: Kirkland Black 40-1
Trap 4: Judicial Ruling (m) 5-4
Trap 5: Cloheena Cash (w) 8-1
Trap 6: Fernhill Fury (w) 40-1
Heat 12 – 20.45
Trap 1: Droopys Loner 11-8
Trap 2: Longrange Ivor 8-1
Trap 3: Fawkham Rocky 100-1
Trap 4: Graigues Orchard 10-3
Trap 5: Diesel Malc 10-1
Trap 6: Bowtime Sykes (w) 2-1
Heat 13 – 21.00
Trap 1: Holycross Prince 6-1
Trap 2: Droopys Jet 7-2
Trap 3: Westmead Shaw 14-1
Trap 4: Burst Of Magic (m) 14-1
Trap 5: Razldazl Jayfkay (w) 1-2
Trap 6: Baigou Phantom (w) 25-1
Heat 14 – 21.15
Trap 1: Westmead Maldini 4-1
Trap 2: Barefoot Allstar 4-5
Trap 3: Droopys Bach 16-1
Trap 4: Droopys Vito (m) 4-1
Trap 5: Malbay Phanter (w) 7-1
Trap 6: Hernandez (w) 16-1
Heat 15 – 21.30
Trap 1: Boher Paddy 11-10
Trap 2: King Jaffa 16-1
Trap 3: Whatsupjack 6-1
Trap 4: Silverview Perky (m) 5-2
Trap 5: Blonde Snapper (m) 10-3
Trap 6: Kingsmill Lotus (w) 100-1
Heat 16
Trap 1: Hather George 25-1
Trap 2: Mill Bling Bling 7-2
Trap 3: Brae Boy 20-1
Trap 4: Blue Artisan 8-1
Trap 5: Jaytee Pedro (m) 11-4
Trap 6: Bubbly Phoenix (w) 10-11
williamhill.com Greyhound Derby (sponsors bet): 5-1 Razldazl Jayfkay, 6-1 Taylors Sky, 13-2 Bubbly Phoenix, 14-1 Barefoot Allstar,Boher, Jaytee Pedro, 16-1 Tynwald Bolt, 20-1 Droopys Jet, 25-1 Judicial Ruling, Mill Bling Bling, Shelbourne Geoff, 28-1 Ballymac Cryan, 33-1 Bucks Blade, Droopys Lorenzo, Mill Maximus, Mill Pegasus, Silverview Perky, Young Sid, 40-1 Coolavanny Bert, Farloe Ironman, Razldazl Rioga, Ruthless Man, Westmead Maldini, 50-1 Blonde Snapper, Boher Chieftain, Bowtime Sykes, Droopys Loner, Farloe Mysterio, Longwood Days, Longwood Hawk, Tinas Nova, Tyrur Justin, 66-1 Droopys Vito, Farloe Iceman, Razldazl Bugatti, Westmead Adonis, You Mind Me, 80-1 Deanridge Viking, Go Go Sonic, Jazz Apollo, 100-1 Bit View Micko, Bombolini, Burst Of Magic, Cloheena Cash, Mags Gamble, Romeo Patriot, Taylors Cruise, Whatsupjack, 125-1 BAR (EW ¼1,2,3,4)