Eden Star fastest with 28.64sec on slow track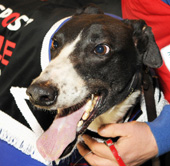 Eden Star: impressive in Saturday's batch of William Hill Derby heats
PICTURE:
STEVE NASH
Saturday's williamhill.com Derby heats: heavy rain all night, track slow and deteriorating. Official going allowance was 0.30sec slow throughout.

Tractor went round after everysecond heat - it went round before heat 12.
The second round draw is noon Sunday and will be carried live here (signal permitting)

Heat 12 first four qualify (five runner race)
the greyhound that was eliminated here was El Dreamer
Young Sid (11-10F) broke well, though marginally behind the fast trapping El Dreamer, and showed good early (4.85) to lead approaching the bend and the Blue Riband hero kicked clear for Paul Young. Longwood Days (4.93) went second from half-way and then closed gradually. Mill Pegasus (4.92) stayed on after first and third bend crowding. Bucks Blade (4.94) again missed the break and has looked unsuited, so far, to Wimbledon. El Dreamer tired and went out
WIn time: 28.79sec by one length, three quarters
Heat 13 first four qualify (five runner race)
the greyhound that was eliminated here was Romeo Scout
It took 13 heats but at last - a real race and a close finish to excite another packed house. Droopys Lorenzo (4-6F, 4.85) pinged, but Blue Artisan (4.89) broke second and the 2011 Racing Post Juvenile hero forged into the lead at half-way. Droopys Lorenzo, keeping wide, rallied off the last bend and got up for a neck victory, kicking clear after the line. Hather George (4.98) took third after slow start and going middle on the bend. Romeo Scout also broke slowly but showed good early before checking wide at the turn, forcing Bowtime Sykes (4.92) very wide - he survived in fourth as Romeo Scout checked and dropped back at the third.
Win time 28.94sec by a neck and two and half lengths
Heat 14 first four qualify (five runner race)
the greyhound that was eliminated here was Mt Leinster Hill
Judicial Ruling made it a great start to the Derby for Ireland's Michael O'Donovan given his Tynwald Bolt also scooted in Friday night. He broke well, quickly overhauled (4.77) fast starting Mt Leinster Hill (who eventually tired and went out) and drew clear at the bend. Longwood Hawk (4.97) broke slowly and stayed on best for second, albeit nearly five lengths behind the 28.73sec winner. Taylors Cruise (4.89) last year's Scottish Derby champion, checked wide at the second but took third. Fernhil Fury (4.95) walked out and ran fourth to remain in Sunday's draw.
Win time 28.73sec by four and three quarters lengths and half a length
Heat 15 first four qualify
the greyhounds that were eliminated here were Trivia and Rio Torino, Jaytee Apache was disqualified for deliberate interference
Paul Young's Derby had gone to plan until this heat - which was a rough race and, after Jaytee Apache getting a buffetting early, he lost his head on the run in, interfering with Daddys Knowsbest. The stewards red carded him and he is eliminated from the event.
You Mind Me (10-3, 4.79) had shown good early to lead at the bend after Shelbourne Abi (4.72) flew out. Daddys Knowsbest (4.91)was third.
Win time 29.06sec two and a half lengths and two lengths
Heat 16 first four qualify
the greyhounds eliminated here were Blakefield Hitz and Fizzypop Supreme
Another bunched race, at least for the five greyhounds behind leader Whatsupjack who was soon ahead (4.83) and left clear at the turn. It was a second first round winner for Ireland's Peter Cronin after Bombolini successfully kicked off the Classic for him Friday night. Graigues Orchard (4.92) turned second. Stellars Blue (4.90) broke but was beaten for pace then baulked atthe bend. Mags Gamble (5.03) will go better next time - he was lost at the bend.
Win time 28.77sec four lengths, three and threequarters
Heat 17 first four qualify
the greyhounds eliminated here were Caribbean Rich and Bright Redcliffe
Bright Redcliffe reached last year's final but went straight out this time after general bunching on the run up, and then a first bend collision with Caribbean Rich which left him on the floor. Tinas Nova provided another winner for Ireland (trainer Sean Muldoon) after a fast break and slipping clear (4.83). Westmead Maldini (5.05) stayed on for second out of the pack. Share The Spoils trapped but was beaten for pace up (4.87) and then baulked at half way. Rockview Head (4.94), caught up in the general scrimmaging, took the vital fourth place.
Win time 28.97sec by two lengths and two and threequarters
Heat 18 all five qualify
Eden Star (5-6F) put up an exhibition performance, going clear (4.77) and winning by over four lengths. The Racing Post Juvenile winner ran middle, going wide on the run in. Ruthless Man (4.86) kept on for second. Droopys Jet (4.96) got a nightmare run, being knocked sideways at the traps as DIxies Air (4.94) cut in, and then running into further trouble at the quarter and third. Farloe Ironman was also held up early and at the third - but all five survive.
Win time 28.64ec four and a quarter lengths, length and a half

Heat 19 first five qualify
the greyhound that was eliminated here was Rusheen Major
Lenson Mac made all (4.85) , cutting across and crowding the inside runners early and then holding off the running on Holycross Prince (4.92) by a head. Romeo Patriot (5.00) took third. KirklandBlack (5.04) was baulked early and never got going. Lughill Paulo (4.96) was badly impeded at the turn when Rusheen Major ran off.
Win time 28.96sec head, three and a half lengths

Heat 20 first four qualify
the greyhounds eliminated here were Lenson Johnny and Ryves Rock
An exciting race in the continuing rain with Boher Paddy (4-7F, 4.83) justifying the odds when picking up Droopys Loner on the run in. The latter (4.76) had trapped with Baigou Phantom (4.75) and showed the better early to run the bend magnificently, emerging with what looked a decisive lead - but Charlie's dog plugged away and got there. Baigou took third with Newtown Skiptipp, slow away (4.97) and very wide at the turn, grabbing the fourth and last place in the drum.
Win time 28.70sec by a length and three quarters and three and three quarters
Heat 21 (five qualify)
the greyhound eliminated here was Droopys Patsy
It looks and feels odd, winner trained by Norah McEllistrim (Hove). But congrats to last year's Derby finalist, Cloheena Cash (10-1, 4.83sec) who came 'home' in style in the closest finish so far in the event - getting up on the line to catch Coolavanny Bert (4.88sec) by a short head with Kingsmill Lotus (4.93) a further short head third. Coolavanny Bert had cut in from four, particularly badly hampering Hey Gringo, but the remaining inside runners too. He then showed excellent early to get to the front, but ran out of puff markedly on the run in. Mill Maximus got a horrible run, and the driving rain for the back markers can hardly have helped. However he went through in fifth as Hey Gringo ran well to get fourth. Droopys Patsy, a kennelmate to the winner, was clobbered several times.
Win time 29.38sec by short head, and a short head
Heat 22 (four qualify)
the greyhounds eliminated here were Aero Bellagio and Millroad Scolari
Bit View Micko (7-2, 4.93) ran really well here for Corren Price, moving wide early into trouble but then putting his head down with a real burst of early and middle speed, overhauling leader Bridge Bandit (4.89) at the third . Romeo Recruit (5.03) took third with Leos Options (4.89) involved in a desperately tight finish for the final qualifying place. He was tiring and was almost caught by Aero Bellagio (bumped early). Millroad Scolari was also hampered at the start and went very wide at the bend
Win time: 28.91sec two and half, threequarters
There had been no further non-runners from those previously announced.
In a trial before racing Mark Wallis's Aero Majestic (early pace, soon clear, rails to middle) beat kennelmate Ballintine Molly (lacked early pace, rails first) by seven and a half lengths in 28.68sec.
**A blogfrom Jim Cremin will follow early Sunday morning