Derby trials before racing Wimbledon Friday night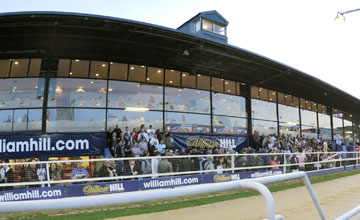 Wimbledon: Home of the williamhill.com Greyhound Derby
PICTURE:
STEVE NASH
Wimbledon has reversed its earlier decision and will NOT now race next Thursday. It had planned an all graded card for what was an overflow night in case needed for William Hill Derby heats - which take place on Friday and Saturday only.
Weather: heavy showers (going 0.20sec slow)
Trials before racing Friday April 20
480m
Shown in trial sheet order, winners marked in bold
1 Farloe Iceman (Matt Dartnall) 4.97 slow away, early pace, rails to middle
4 Burst Of Magic (Sharon Hurley, Ire) 4.89 early pace, soon clear, rails first; 28.91sec length and a half, neck
6 Millroad Scolari (Liz McNair) 4.96 lacked early pace, wide
(graded trial for Bernie Doyle)
2 Keeping And Edge 29.70sec.
4 Opening Band 2nd four and a half, three and threequarters
5 Taranis Vieri 3rd
2 Ballymac Cryan (Matt Dartnall) 4.96 led quarter to half, rails first, wide run in

4 Deanridge Viking (Dean Childs) 4.98 slow away, middle, led third 28.83sec three quarters, two and half
6 Leos Options (Dean Childs) 4.88 well away, mid to wide
1 Mark My Words (Paul Sallis) 4.93 bumped first, rails, disputed from half, clear fourth 28.99sec three lengths, three and a half
4 Lenson Ginger (Tony Collett) 4.90 early pace, cut in and badly bumped first
6 Go Go Sonic (Paul Sallis) 4.90 slow away, wide, led second, disp half to four
2 Coolavanny Bert (John Gardner) 4.81 early pace, soon led, rails 28.97sec neck
4 Droopys Vito (Dean Childs) 4.87 beaten for early pace, middle, stayed
2 Farloe Ironman (Matt Dartnall) 4.92 fast away, led to third, rails
6 Bowtime Sykes (Julie Bateson) 4.97 slow away, wide, led third, very wide fourth, went well 28.79sec three lengths
1 Lenson Mac (Tony Collett) 4.92 early pace, rails

3 Whata Lovely Job (Dean Childs) 4.99 slow away, middle to wide, stayed
6 Lenson Johnny (Tony Collett) 4.92 always led, middle 29.04sec two and three quarters lengths, head
Further trials before racing Saturday will be covered here live as will Sunday's first round draw, from 1pm
The WilliamHill.com Derby first round is Friday and Saturday. See Saturday's Racing Post for a voucher offering free admission for four, racecard and a free pint.