Derby champion Blonde Snapper is retired to stud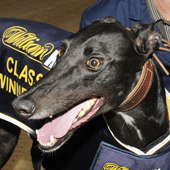 Blonde Snapper: retired to stud - but will be spoilt at home first
PICTURE:
STEVE NASH
BLONDE SNAPPER, last month's Williamhill.com Derby champion, has been retired.
His proud owner, Mark Currell, announced the decision during the Sky broadcast from Oxford Tuesday night.
Trained by Mark Wallis, Blonde Snapper had looked set for a defence of his William Hill Classic title, which starts shortly at Sunderland, but Currell explained that after much agonising, he had decided to call it a day.
"We want to go out at the top – and he's not getting any younger. If it had gone wrong at Sunderland, and say been knocked over, we'd feel terrible."
He said he was reviewing options to send him to stud, but in the meantime the dog will enjoy himself being spoilt by Wallis and his team.
"We will do the right thing for him and ensure he enjoys the rest of his days."
Blonde Snapper had won Romford's Golden Sprint prior to the Derby and showed impressive speed and tenacity through both that and the premier Classic.
Wallis added: "I'm pleased with Mark's decision - we're going out on the biggest high that you can imagine."
*In a separate interview Richard Harkness of Ladbrokes stated rumours that his company was negotiating to purchase Oxford from the GRA were entirely unfounded.