Fantastic reaction to Charlie Lister OBE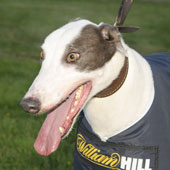 Taylors Sky: gave Charlie his record-breaking sixth Derby win
PICTURE:
STEVE NASH
CHARLIE LISTER OBE barely had time to draw breath on New Year's Eve with the phone to his Newark kennels red-hot as greyhound colleagues from far and wide clamoured to congratulate him on his appearance in the New Year's Honours list.
"I'm a bit overwhelmed to be honest," said Lister, "but I'd like to thank everyone for getting in touch and it's really pleasing that so many people have remarked how good it is for greyhound racing as a whole.
"I know I have my moments and people might take me the wrong way, but it's soon forgotten about and I genuinely just love the sport.
"It might not be the best of times just now, but I do think that the GBGB is doing a very good job. Compared to what went before, they are so helpful and do as much as they can for you.
"Obviously they started the process off which ended up with me getting the award and I really appreciate what they and everyone who contributed has done."
Leading figures from the greyhound world also contacted the Racing Post on hearing the news and here is a selection of their thoughts.
Chris Allsopp
2011 Trainer of the Year
"It's a fantastic achievement and so fully deserved as he's been the king of greyhound racing for many years. Charlie actually phoned me the other day to congratulate me on my year and didn't let on about his wonderful news.
"He's just a legend and if I can achieve half or what he has I'll be very happy, actually even a quarter would do! This takes the sport to a whole new level."
Bob Betts
Former Greyhound Life editor
"Charlie is the greatest trainer of his era and it's fantastic news not only for him but also on behalf of the whole sport. To my recollection, only Fred Underhill and Archie Newhouse have been honoured in this way for greyhound racing before and they were both administrators so Charlie is the first grass roots operator to get such tremendous recognition."
Rachel Corden
Nottingham promoter and GBGB director
"I'm so delighted that Charlie's commitment to the canine charges in his care throughout the years, and his phenomenal ability as an outstanding greyhound trainer, have been recognised. It's fantastic news for greyhound racing that one of our sporting heroes has been acknowledged in this way. Well done Charlie!"

Kate Miller
PR manager for Derby sponsor William Hill
"It was with true happiness that I read of Charlie's New Year honour. Too often the outstanding achievements of those involved in non-mainstream sports are overlooked. Congratulations Charlie, your incredible efforts have honoured the entire sport.''
Dolores Ruth
Leading Irish trainer
"It's the most fantastic news that the greyhound industry has received in ages. Facts are facts and for Charlie to have been recognised at this level is testament to his incredible achievements. What the man has done we can only all aspire to."
**Further reaction - see Sunday's Racing Post