Bubbly Phoenix rises to the Yarmouth challenge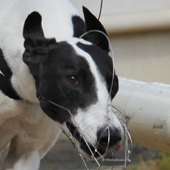 Bubbly Phoenix: sparked scenes of delight from the 100-strong Champagne Club at Yarmouth
PICTURE:
STEVE NASH
BUBBLY PHOENIX held on for a thrilling victory in the feature Ladbrokes East Anglian Derby final at Yarmouth on Thursday night, leading at half-way before facing a determined late challenge from Taylors Sky up the long run in, scoring by threequarters of a length in 27.36sec.
Bubbly Phoenix is owned by the 100-strong Champagne Club and trained by Paul Young - who saw his kennelmate Millwards Matt lead up.
Bubbly Phoenix cleverly held his position at the bend, avoiding Guinness Dusty, and then edged ahead down the back straight. However, veering very wide off the last made it nerve wracking, but he prevailed as his excited owners went wild.
Boher Paddy, a 4-1 Pricewise pick, ran on well to take the East Anglian Derby Invitation after Loughteen Blanco and Ballycowen Dave had duelled early. He made it a hat-trick for Charlie Lister, winning by neck in 27.44sec
The neck distance meant a special concession from sponsors Ladbrokes came into play on Loughteen Blanco, with a free bet refund on stakes up £100. This also applied earlier to Lil Risky and Jaytee Monroe (fended off by a battling Goa Girl in the stayers).
Lister's Glanmire Phanter put up a last to first performance in the sprint to nail Lil Risky on the line. And the same trainer's Killieford Deal led at the first to romp the pups open by over eight lengths in 27.51sec
Belvedere Emma (the Open Check nap) overcame a slow start to lead at the third bend for David Pruhs in the bitches' race, holding a rallying Westmead Athena, who had led first to down the back, by half a length in 27.82sec.
Hometown Honey, a 6-1 Pricewise selection, took the marathon for Mark Wallis after a first bend pile-up left rank outsider Jell On Jock well clear, but mistakenly thinking the race was over, slowed badly at the pick up to allow Hometown Honey the advantage.
Wallis then notched a quick double when Ayamzaman flew out to make all in 27.50sec in the dogs open.
**Ballymac Eske romped his Coral Greyhound Olympic semi at Hove on Thursday night, breaking in front and making all. Barrie Draper's star drew right away from the third bend for an eight lengths win in a fastest of the round 29.42sec. Mutual Consent grabbed second as the field bunched behind.
Bridge Honcho took the opening semi in 29.78sec, flying out from trap three and moving wide early to crowd the outside runners. He won by two lengths.
Holycross Prince went up fast from trap two to take second, moving middle at the bend. Westmead Maldini, who went off a hot favourite, was crowded on the opening turns and, although battling on, failed by threequarters to make one of the vital two qualifying places.
Lenson Bob flew out and made all in the third semi, clocking 29.76sec; Sawpit Sensation plugged on to be a two lengths second. Airlie Impact had walked out, and was then baulked and checked very wide at the turn.
*Draw for Thursday's £5,000 final (with Coral betting): 1 Ballymac Eske (1-3) 2 Mutual Consent (50-1) 3 Holycross Prince (25-1) 4 Bridge Honcho (m) (6-1) 5 Sawpit Senation (m) (8-1) 6 Lenson Bob (m) (6-1)
*At Henlow, Bush Bandit maintained the excellent impression he has made there when showing good pace to lead at the bend, and then kicked well clear down the back against useful rivals. It was his third win in three British starts, and completed a winning RPGTV Trixie by Dave Johnston, who also picked Bridge Honcho and Mr Chow at Hove.