Bandit takes Notts final: Stevie shines at Romford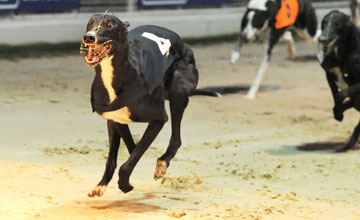 Ayamzaman: Recorded another course and distance win at Romford
PICTURE:
STEVE NASH
THE Betfred Maiden Standard Trophy final was the highlight of Nottingham's Monday night Bags card and the £400 decider went to Anfi Bandit.
In a race of changing fortunes, Swift Example set the early fractions but was blown away down the back straight by Ballycowen Dave. However, Kevin Wright's Anfi Bandit (2-1), who was always handy, railed well off the final bend and swept to the front on the run in to record a neck success in a time of 30.42sec.

The programme also included three heats of a 480-metre Stadium Bookmakers Trophy were fastest qualifier for next week's shoot-out was Mottos Blue.
Gerry Ballentine's Swift Frogma (5-2) dominated the opening heat when comfortably making all in a time of 29.00sec.
Charlie Lister's Mottos Blue (5-4F) was equally dominant when blowing away the opposition in heat two.
The December 09 whelp showed good early and impressive middle speed to beat Ardmayle Driver by 4L in 28.86sec.
Pat Rosney's Bower William (2-1F) showed the opposition a clean pair of paws in heat three. Breaking well, he soon surged clear to beat the never nearer Chicago Prince by 3 1/4L in 29.26sec.

THREE heats of the Ardbeg Mentor Memorial Trophy (400m) topped the bill at Romford and marching into Friday's final with the fastest clock is Droopys Stevie.
The opening heat saw Seamus Cahill's Gilbeyhall Ned (11-8F) make it three wins from his last five starts when pacing up to lead at the corner and then kick on to beat Droopys Chase by 2 1/4L in 24.30sec.
Mark Wallis's Ayamzaman was expected to bolt up in the second eliminator at 7.58 but it wasn't all plain sailing for the 4-9 favourite who was beaten to the punch by Ardbeg Brandon.
However, the white-hot jolly managed to get on terms down the far side and drove the third bend best and then forged ahead to score by 3 1/4L in 24.28sec.
Dean Childs' Droopys Stevie, an uneasy 2-1 favourite for heat three, was out-trapped by Uh Oh Chongo but showed good pace up and, having railed well, surged to the front off the second bend to score readily in a superior time of 24.02sec.

Draw for Friday's final: 1 Ardbeg Brandon, 2 Droopys Chase, 3 Droopys Stevie, 4 Gilbeyhall Ned (m), 5 Aero Prince (m), 6 Ayamzaman (m).