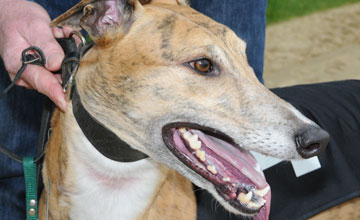 Ballymac Vic: massive setback for a disappointed Liam Dowling
PICTURE:
STEVE NASH
Ballymac Vic involved in 'nasty cut' accident
BALLYMAC VIC had no sooner been installed as clear favourite for the ETS Irish Derby than he was declared a "very doubtful" runner in Saturday's opening heat in the quarter finals at Shelbourne.
A disappointed Liam Dowling reported that his star tracker has sustained a nasty cut on his foot and that it is extremely unlikely that he will be able to run.
"He was in the paddock and jumped against a gate. Somehow he got his paw caught and he got a nasty cut. The vet had to give him five stitches just at the back of the pad and he was very sore on it. I will be bringing him back to the vet on Wednesday for another look at it and the likelihood is that we will make a decision then".
One of the fastest greyhounds in training, Ballymac Vic also also one of the unluckiest. Following his English Derby final defeat he had bounced back to top form at Shelbourne following his close shave in the first round.
He is due to contest the opening heat on Saturday where his rivals are Droopys Adler, Fairhill Paddy, Hot Pursuit, Ballyana Foxtrot and Cabra Buck.
Dowling also reported that Bouncy Bocko picked up an injury in the third round when he had a rough passage. "He will be off for four to six weeks and he is returning to England. I was hoping we might be able to run him in the Mulvaney 600 which follows on immediately from the Derby but that is now out of the question."
Paul Sallis also reported yesterday that Bold Three was "very sore" following his third round exit at the weekend.
"He got no run in the race but we are hoping that he will be okay to run on the Derby final night card. He wasn't staying well at Shelbourne but obviously he wasn't fully tuned up after his lay-off. I still feel he is capable of a big run there."