A good night for English in Irish Grand National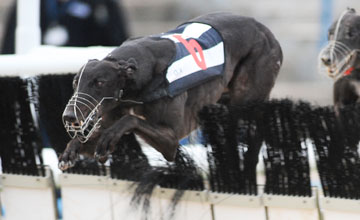 Baran Bally Hi was imprerssive in Irish Grand National heats
PICTURE:
STEVE NASH
HAROLD'S CROSS staged the first round heats of the Irish Grand National and English raiders dominated the opener when Westmead Melanie, the Springbok winner now under the care of Fraser Black, stayed on well to catch Jason Foster's Billis Renegade in a time of 29.43sec (Nick Colton's Johnnys Way was a non-runner).
There was more good news for the English when heat two went to Jason Foster's Clonkeen Theo (4-1). The 2011 Springbok winner led close home to beat Runaway Lady and the odds-on Lenson Teddy in 29.77sec.
Heat three saw a win for the home team when Have To Win (3-1) ran on well to score a two-length success over Saleen Tompajoe 29.85sec - Jason Foster's All Sensation squeezed through in third spot.
Last of the four qualifiers saw a fastest-of-the-session run from Baran Bally Hi who bolted out and made all in 29.31sec. The winner, also being trained by Fraser Black for this competition, beat Druids Can Tell by two lengths and there was a distance back to the third placed Illhaveoneben.



Two heats of the Coral On TV Maiden Trophy (400m) competition were the highlight at Romford and these were won by Dave Mullins' Assassin Eight (6-1) who enjoyed a dream run on the fence to take the opener in 24.69sec and Ernie Gaskin's Sues Rocket (5-2F) who bolted from the boxes to make all in 24.62sec.
Draw for Friday's final (live on RPGTV)
1 Sues Rocket, 2 Assassin Eight, 3 Mandeville Rose, 4 Backdoor Selecta (m), 5 Lenson Champ (w), 6 Mineloa Keane (w).

Nottingham's Bags card featured three heats of a 480-metre Standard event for which Charlie Lister's Boher Chieftain (1-2F) set the bar with an impressive 28.52sec run in the opener.
Heat two saw David Pruhs' Belvedere Emma (7-4F) ping out and make all in 28.70sec while the third qualifier went to Gerry Ballentine's Garlyn Rocky (EvsF) who was workmanlike in recording 28.81sec.
The card also featured a pair of Sprint races which were won by Charlie Lister's Glanmire Phanter (9-4F) in a speedy 17.70sec and Paul White's Glass Half Full (3-1) with 17.92sec.
The 500-metre final, which was not on Bags, was won by Richard Grey's Newmarket Flyaway (7-4) who led from the fourth bend to beat Ballygree Romeo by 1 1/2L in 29.71sec.