28.31sec Bubbly Phoenix runs away with heat two

Bubbly Phoenix proved the fastest of the night as the Derby started Friday night; it continues Saturday - don't miss your Racing Post
PICTURE:
STEVE NASH
Williamhill.com Derby Heat 1 (five qualify)
The eliminated greyhound here was trap 1 Landown Lenny.
Bombolini (8-1) struck first blood for Ireland, trapping well (4.79) and going soon clear as King Jaffa cut in, and the inside three crowded, Trewmount Snap (4.90), who broke slowly, showed good early pace into the bend, turned second - and stayed there. Malbay Phanter (4.91) stayed on in third after a very slow break. 4th was King Jaffa (4.80), 5th Droopys Bach (4.89)
Win time 28.66sec by two and a half lengths, one length
Heat 2 (five qualify)
The eliminated greyhound here was Benkaat Boy
Bubbly Phoenix (4-7F) was stunning, rocketing out of the boxes (4.68sec sectional) and romping home by over seven lengths. He confirmed he is a major player, and his time of 28.31 proved the night's fastest. Puppy Derby runner-up Farloe Mysterio took second after moving very wide early (4.93). Jazz Apollo (5.06) showed good middle pace to be third. Holy Ground (5.07) was run off his feet early but plugged on for fourth. Fawkham Rocky (5.02) was very slow away and fifth, Benkaat Boy goes out. He went up second but tired.
Win time 28.31sec by seven and a quarter lengths and a length and a quarter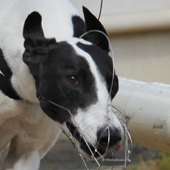 Bubbly Phoenix: hugely impressive and slashed by the sponsors
PICTURE:
STEVE NASH
Bubbly Phoenix's win was the first by a greyhound wearing a Union Jack - celebrating the Queen's Diamond Jubilee. A couple of internet viewers felt he had worn an ordinary jacket, but Steve Nash, our photographer, has now posted the evidence that he did with a striking picture on our Facebook site.
Bubbly Phoenix is now 10-1 with Hills for the Derby, his 4.68sec sectional at the time was thought to have been fastest in the Derby ever - but checking back on Derby racecards from last year, Fifis Rocket, trained by Chris Allsopp had a 4.65 split.

Allsopp's Fred Flyer later Friday night clocked a 4.67sec sectional. Perhaps he had been told kennel pride was at stake!
Heat 3 - five qualify
The eliminated greyhound here was Killacolla Pedro
Scottish Derby hero Barefoot Allstar (11-8F, 4.81) made no mistake, showing an excellent burst of pace and barging equally fast up Razldazl Bugatti (4.81) out of the way as the latter tried to challenge. It wasIreland's second winner and an easy one too. Hernandez stayed on for second, over five lengths behind, Longranbge Ivor took third
Win time 28.60sec five and quarter, and half a length
**Razldazl Bugatti is to have his seeding changed in Sunday's draw from middle, to now rails
Heat 4 (all five qualified)
This was the best 'race' so far, a real early paced battle between Westmead Shaw (4.77) and Silverview Perky (4.77), with the latter (8-11F) eventually asserting rounding the bottom bends. Droopys Vito (4.86) stayed on for second. Mark My Works (4.84), crowded at the turn, was third with Westmead Shaw tiring into fourth. Goa Getta (5.00) was slow away - but all the runners survive into Sunday's noon second round draw.
Win time 28.65sec by two and a quarter and a length and a half
**Bowser went round after this race
Heat 5 (four qualify)
This was a clean run affair, a race with more edge - two were eliminated here, Fairway Fusion and Boxie.
Blonde Snapper (7-4F, 4.85) put this to bed in decisive style when breaking well and going clear. He had won the Golden Sprint from trap six at Romford last Friday and handled trap two well too. He would break even better from four. Farloe Iceman (4.92) turned second but could make no impression and just held off Farloe Luigi (4.92). Go Go Sonic kept wide and took the fourth qualifiying place
Win time 28.69sec by five and a quarter lengths and a neck
Heat 6 (four qualify)
Droopys Boo was the unlucky one here, going out in fifth (five runner race).
Mill Bling Bling pinged (11-8, 4.84sec), but was given a race and a half by Cork Laurels champion Razldazl Rioga (4.90) who went up fast but was chopped off as the leader cut the bend. The pair continued, with Razldazl Rioga trying to get back on terms, but was again chopped at the third, and dropped back, hampering the rest of the field. Lenson Ginger (4.98) ran on for second, going wide on the run in, Razldazl Riogo was safely third - but is capable of even better if leading. Pittsburgh Glory, slow away and crowded at the first and third, took the final place in the draw.
Win time 28.78sec by five and a half, and two and a half.
Owner Len Ponder said of runner-up Lenson Ginger: "I'm delighted, he's had a series of problems, and is short of work, but that was encouraging to see him qualify."
Heat 7 (five qualify)
The eliminated greyhound here was Cash Game
This saw the first major shock in terms of a defeat for the ante-post favourite Taylors Sky (5.00). He had seemed to come away well enough, but in an odd concertina type incident where Diesel Malc (4.91) cut in and clipped Cash Game, who in turn pulled back Taylors Sky, the defending champion was suddenly in the rear. However further trouble at the bend allowed him to make up ground and he was third from half-way and safely through. Jaytee Pedro (4-1, 4.82) did look the part, drawing away for an easy win for Kelly Findlay and owner John Turner. Brae Boy (4.89) was soon second. Caribbean Gem (4.92), bumped at the bend with Diesel Malc, was fourth.
Winners time 28.53sec six and three quarter lengths and two and three quarters.
Heat 8 (first four qualify)
The eliminated greyhounds here were What A Lovely Job and Holloway Road
Castlebride Dan (3-1, 4.74sec) flew out, moved wide early and made all, assisted by general first bend bunching that caught up most of the field, with Holloway Road suffering worst. Skywalker Gold (4.90) and Brinkley Flyer (5.00) emerged second and third. It was a double for winning trainer Mark Wallis.
Win time 28.81sec one length, two and a quarter
Castlebride Dan will now be seeded middle (from rails)
tractor went round
Heat 9 (first four qualify)
The eliminated greyhounds here were Frankbrunosbro and Movealong Dash.
Fred Champ (8-1) snatched the sectional record set earlier by Bubbly Phoenix with a blistering 4.67sec, flying out and making all. The track is giving front runners the edge, and yet Shelbourne Geoff (4.93), all over the place early and fifth at half way, fairly motored to take second and looks to be getting to grips with Wimbledon. Boher Chieftain (4.75) showed good early and was third. Deanridge Viking (4.97) was slow away.
Time 28.66sec by a length and a half and half a length
Heat 10 (first four qualify)
The eliminated greyhounds here were Dippy Doo, and Dream Walker(who broke down on the second bend)
An impressive run here from Tynwalk Bolt (11/4, 4.83sec) making all, and the time was an eye cathcing 28.38sec coming so late in the meeting. He is trained by Michael O'Donovan in Irelandfor Terry Corden and ran away with this. Tyrur Justin (4.97) took second, after being hampered at the bend when Burst Of Magic (4.91) cut in - and later tired by held fourth, Big Step (5.06) ran on late for third after a slow start. Dippy Doo stumbled atthe trap.
Tine 28.38sec, nine lengths, and two and a quarter
Tractor went round
Heat 11 all four runners qualify
Razldazl Jayfkay was sent off 1-7F but came out last of four with a slow start, however his power (4.88sec) took him soon clear and he came home four length clear of a staying on Westmead Adonis (5.00), with Droopys Trumo (4.96sec) third. Doonane Lad (4.92) had led out, but checked at the third and tired.
Win time 28.39sec by four lengths, five and a half lengths.
The first round concludes Saturday.
**See blog from Jim Cremin
**There were NO further withdrawals from Friday night's opening batch of williamhill.com Derby first round heats. Some trainers were delayed by traffic headaches, but all made it in time.
Confirmingearlier withdrawals from Friday:
8.45pm Heat 4 trap 5 El Clive was withdrawn off colour - all five runners will qualify here
9.15pm Heat 6 Head Iton Hayesy was withdrawn lame
10.30pn Heat 11 trap 1 Broadway Magic was withdrawn bitten and Razldazl Houdini was withdrawn off colour - all four remaining runners will qualify from here.
In trials before racing Ted Sopitt's Fairly Handy ran a 273m solo in 16.48sec, starting moderately and keeping middle
and Dolores Ruth's Razldazl Marilyn ran a 480m solo in 28.98sec, again trapping moderately, and ran middle.
Please note the draw for next weekend's second round, the last 96, starts at noon on Sunday. It will be carried live here.