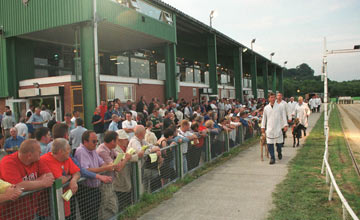 Nottingham takes centre stage tonight
PICTURE:
STEVE NASH
Scolari looking a sound Nottingham investment
SCOLARI SOUND was in total command of a similar contest last week in the blink of an eye and David Pruhs's pup can dish out more of the same treatment in Nottingham's National Sprint trial stakes finale over 305m at 10.07 on Monday night.
Winner of a sprint competiton at home base Peterborough in October, he has scored in seven of his 11 starts for the trainer and is exciting to watch as he simply blows the opposition away from the outset when timing the start right.
Vanayamzaman did beat him a couple of outings ago but that form was comprehensively reversed six days ago and a similar outcome is surely the most likely scenario given the selection's scope.
There are also two National Sprint trial stakes on the Bags section of the card with Max Alden's Unique Wishes having a local knowledge advantage over Stanton Stream in the first at 8.19 although he does have limited experience from trap one.
However, Stanton Stream's trainer Kevin Hutton can strike at 9.22 courtesy of Dragon Big Bux, who reached the semi-finals of the event last year.
First of the evening's opens is a 680m maiden event at 8.04 in which Paul White's Racenight Sadie may be good enough with the hope being that trap one facilitates a better run than she got when trying six bends for the first time this year on November 2.
Three heats of a maiden puppy event over 480m are best left to White's Oscar Whisky (8.36), Ted Soppitt's Calzaghe Junior (8.52) and Carl Perry's Geelo Speedo (9.07).
Pruhs's Rabbini has gone five without a win but ran well when second to Solvitas Rocket over the course and distance last week and he can prove strongest all-round in the non-Bags 9.52 over 500m.

Open Check nap
Unique Wishes
8.19 Nottingham
*MONDAY morning's meeting at Swindon will determine the first qualifier into the Grand Final of the Bags/SIS Track Championship, live on Sky Sports on December 23.
However, expectations of a nip and tuck battle between Monmore and Hall Green were diminished on Sunday with news of sickness striking Hall Green's Leons Buck, who would have been fancied in the dogs event.
Trainer Stuart Buckland groaned: "He's the only dog in the kennel affected, I can't believe it."
Trap three is vacant, as the rules do not permit late reserves.
It is a boost for Monmore, who arrive holding a ten point lead. Whoever finishes second will still hope to qualify as one of the two best runners-up. The three other groups also complete this week with matches at Doncaster Wednesday, Towcester on Friday, and Wimbledon on Saturday.