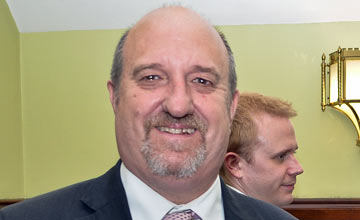 Barry Faulkner: "gradual and long-term seepage"
PICTURE:

Steve Nash
Fall in Fund income now 'a crisis' says Faulkner
A PROJECTED fall in betting shop greyhound turnover in the year ahead will lead to a £400,000 cut in the 2015 budget for the Fund, which was described as "a crisis" by Barry Faulkner, chief executive of the Greyhound Board.
Following a board meeting this week, Fund chairman Tom Kelly said: "Income for last year was £7.4m, but projections show there will be a drop, and it might fall to £6.7m.
"With reserves and thanks to various underspends we think we can reasonably plan for £7m – that's the figure we have asked the Greyhound Board to work to. We have also asked them to take a look at what a £6.9m and a £6.8m budget might be – just in case there's a worse scenario."
Faulkner said: "This drop finally nails any belief that only a 'cup of tea' is being bet on greyhound racing offshore. RPGTV, for instance, would not be in existence without the offshore levels of turnover and interest in the sport. Why else would bookmakers do it?
"There has been a gradual and long-term seepage, at one stage the Fund was as high as £14m and, even after stripping out the 'high roller' impact, £12m was available from normal business. But in recent years it has dropped to £10m, £8m and now below £7m.
Read the full story in Friday's Racing Post