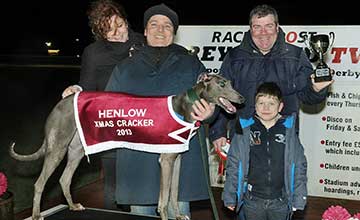 Eric Cantillon (right): trains Flying Four vote Blackroserocket PICTURE: STEVE NASH
Duke ready to lord it over Henlow rivals
DANISH DUKE is always a ­formidable opponent in ­Henlow 428m races and should be once again in the 8.15 there tonight.
Jason Bloomfield's dog has the best of the draw in one and can slip his field at the first bend before racing into a decisive advantage.
Blackroserocket could never get competitive over 460m last time but Eric ­Cantillon's dog is up in distance and down in class for the 8.45 over 550m and should be tough to beat.
He went unbeaten through the Cesarewitch over the course and distance in ­December and a similar ­display of early pace to that he showed then should soon see him away and gone.
Burgh Legion has won three of his six races and another success is on the cards for Paul Hebbs's dog against A4 rivals over 460m at 9.00.
Very much best when able to dominate, there is every chance of that being the case this evening and he can soon put the race to bed.
Quivers Bliss ran ­better in two recent awaydays to Towcester than the ­formlines may suggest and Tracy Stowe's dog has to be fancied to account for a decent A3 field in the 460m finale at 9.15.
The May 2014 youngster has won his last three here in impressive fashion and anything approaching a level break should see him in front by the first bend.
Rab McNair, assistant trainer to wife Liz, is the guest on RPGTV tonight.
Hills are betting on the Flying Four and go: 9-2 no winners, 13-8 one winner, 6-4 two winners, 4-1 three winners and 40-1 that all four selections oblige.
Danish Duke 8.15 Henlow
Blackrosecrocket 8.45 Henlow
Burgh Legion 9.00 Henlow
Quivers Bliss 9.15 Henlow