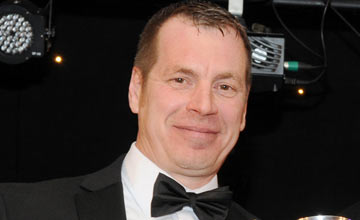 Mark Wallis: Stellar night at Sunday's awards. Can it continue tonight?
PICTURE:
STEVE NASH
How the handlers see tonight's Hall Green final
Don't miss today's Racing Post for full Sky night preview, Pricewise's opinion and latest betting, full form, suggested Jackpot perms . . . plus all the gossip from Sunday's GBGB Awards night
9.08pm Partex Marking Systems Prestige final 645m
live on Sky Sports 2
Billys Bullet
Mark Wallis
Billy arrived just before Towcester opened, he was in great condition and has settled well. We're hoping for a good year, starting with this. There weren't any wides entered and six railers have made the final, so trap one's helpful. He's a bang railer, a big, sturdy though compact dog. He ran well after missing his break in the heats and should improve. He's got real middle gears. If we win the jackpot too 20 per cent will go to the Mark Wallis Vegas Fund! Ilewin Allot looks good with red in the sprint, though that's the sponsor's dog inT2. Blonde Razor steps down in trip in the 480 to keep him going. Black Francis is in the form of his life, and runs a track well first time.
Owned by Billy Boyle and Scott Murray
Wiki Waki Woo
Angie Kibble
She was reared here, so we've had her since she was small – we call her Grace at home. Wiki Waki Woo was a catchy name Jonathan [owner] came up with for his young son. She's definitely not 'wacky', but can be cautious of other dogs after taking a crashing fall at the end of August. That persuaded us to send her over six bends and it's worked well. She won the Midland Leger here, breaking in front that night so we'd like her to do that again! It's a good final and we're delighted to be involved. She still has puppyish traits despite being nearly two and a half, but isn't a nervous type. Of our other runners, Droopys Gooch [8.51pm] is a nice, improving sort.
Owned by Jonathan Miles
Dinzeo
Harry Crapper
He's named after Raimondo D'Inzeo, who won showjumping gold for Italy at Rome in 1960. It was a time when we'd all watch that on the TV – I used to enjoy it. This is a good dog - we call him Joe at home - and I'm looking forward to this. He's taken time to mature, perhaps he lacked a little confidence early on. He's come a bit under the radar, but I hope this will be his year. He's in good shape and will be the better for his heat run. He ran well but it was his first six-bend start for a couple of months. He has dipped under 39.00sec at Sheffield, and it takes a fast one to do that. Ideally he'll lead.
Owned by Harry Crapper
Droopys Kolarov
Kim Billingham
Apparently Kolarov is a Man City player – but that's nothing to do with us. We call him Charlie and bought him through Brian Harrison's Perry Barr sales for reasonable money. If you don't go in too hard, you can get a bargain, and Charlie's really thrived since he got older and went over six bends. He ran well to qualify, and this draw might suit him – if he can fly out the way he did in the heats of the Midland Leger here. He has no vices, and is a perfect sort. We're also looking forward to seeing Whittle Eagle in the 8.16pm. It's a decent race, but he's a bold one if getting a run, and went well here before.
Owned by Mike Kelly, Keith Parsons and Kim Billingham
Supreme Turbo
Stuart Buckland
We'd have preferred to get trap one again, but that was too much to hope for, and in a sense with the make-up it's anyway all about what leads. If we trap in front we'd hope to win it, and the same applies to the others. We've had him since he was three months old, and after a spell in the doldrums he's now battled to a couple of wins and has come out of them well. We won it last year with Scala Dromin, who unfortunately broke his hock at Nottingham in June. We're now assessing bringing him back. Son Of Delboy, who runs in 8.16pm, has had niggling injury problems, but is back winning graded races. This will be tougher.
Owned by Maurice Buckland
6 Jaytee Osprey
Paul Young
You have to admit it was disappointing the way Osprey ran after leading in her heat. Perhaps it's just one of those things especially as, on reflection, it had been a stressful journey up due to nightmare traffic on the motorway and it might have got to her as well as us. We've had her checked out, but she's right as rain. In a race where what gets out looks to have a vital edge trap six might yet work out for her. We've also got Millwards Katy in the sprint – one of the jackpot races. She's run a good sprint trial there, is stepping down in trip and again it's all about the break.
Owned by John Turner