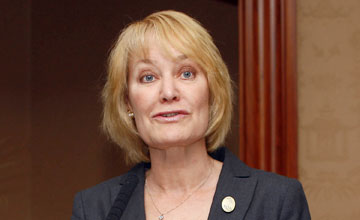 Rachel Hood: new mayor of Newmarket
PICTURE:
Dan Abraham
Rachel Hood elected mayor of Newmarket
THE racing industry in Newmarket was given a big boost after Rachel Hood, wife of John Gosden, was elected mayor of the town at a full council meeting held on Tuesday night.
Hood, who is also president of the Racehorse Owners Association, is an active figure in local politics, serving as a town and district councillor.
She also founded the Save Historic Newmarket Action Group, which has led the opposition to Lord Derby's controversial plans to build homes on the Hatchfields Farm site in the town.
Just four years after having no elected representatives on the body, racing is now very well-represented after trainer John Berry was elected as deputy mayor.
Berry said: "It's great news all round and Rachel, who was deputy mayor last year, was elected with four abstentions. I was elected unanimously as deputy."