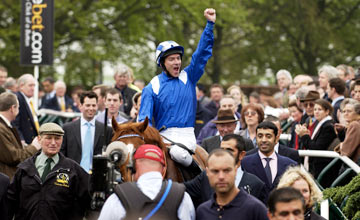 2,000 Guineas win on Haafhd in 2004 among Richard Hills's Classic haul
PICTURE:
Edward Whitaker (racingpost.com/photos)
Richard Hills praised by family and employers

RICHARD HILLS was on Sunday described as "a thorough professional", "a good judge of pace" and "very nice young man" by his family and former employers in the wake of his announcement to retire from the saddle on Dubai World Cup night.

Hills, 49, has ridden for 33 years with over half of that time spent in the colours of Hamdan Al Maktoum's famous blue and white silks. After riding as number two for the operation for two years, he assumed the number one mantle when Willie Carson retired in 1997 and has held the position ever since.

Father and former trainer Barry Hills said of his son: "Richard has had a very good career, as has his twin brother Michael, and he's never been in any trouble and has always kept his nose clean.
"It's a great tribute to both him and to Sheikh Hamdan that they had a such a long relationship together. Richard has always been a good judge of pace and Sheikh Hamdan liked his horses ridden handily, so it worked well.
Michael, older twin brother by half an hour, has no plans to retire but admits that going to work will not be quite the same. He said: "It's not a shock that Richard is retiring, but life is going to be different now without him in the weighing room.

"He's very competitive and a thorough professional. There have been so many highlights it's hard to pinpoint one, but I was hugely proud when he won the World Cup."

The 1999 World Cup win on Almutawakel was one of several winners at the highest level for Hills, with his first being for then-boss Tom Jones on Ashal in the 1990 Ascot Gold Cup.

The Derby was the only British Classic Hills failed to win as he triumphed in the 1,000 Guineas three times [Harayir, Lahan and Ghanaati], the 2,000 Guineas [Haafhd], Oaks [Eswarah] and St Leger [Mutafaweq].
John Dunlop: paid tribute
PICTURE:
Mark Cranham
John Dunlop, who has trained so many good winners for Sheikh Hamdan, described Hills as "a most consistent stable jockey" and added: "He rode primarily for Tom Jones when he first started riding for Sheikh Hamdan but subsequent to that, and after Willie Carson's retirement, he rode as number one jockey for Sheikh Hamdan and has been the most marvellous, reliable, most consistent stable jockey that you could possibly have. And a very nice young man too."
Paddy Power did open a market on who would succeed Hills as number one for Sheikh Hamdan but after installing Silvestre de Sousa at 7-2, then cutting him to 6-4, they suspended the market on Sunday evening.

Spokesman Tony Coleman said: "Since we went up with the market on Sunday afternoon, it has all been about one man - Silvestre de Sousa. He's been punted to the exclusion of anyone else and it smacks of being a done deal for the boy from Brazil."