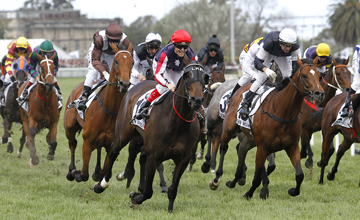 Caulfield: Liz Rice was injured after her horse was spooked at the track
PICTURE:
Getty Images
Life support for rider
Rice to be withdrawn
Australia: The family of Lizz Rice, the English-born work-rider who suffered serious head injuries in a fall at Caulfield this month, have been told she will not recover and medical support will be withdrawn on Friday.
Surgeons at Alfred Hospital in Melbourne had a meeting with Rice's family on Wednesday evening when they said she continued to show no signs of brain activity and there was no expectation of recovery.
The 26-year-old Rice, whose career was nurtured by Oxfordshire trainer Lawney Hill, was knocked unconcious when her mount was spooked at Caulfield on January 12.
Hill tweeted on Thursday morning: "Lizz spent a few years here riding out and we are all devastated by this news. Sincere condolences to her family."
Australian Jockeys' Association general manager Des O'Keeffe, who described the accident as "bizarre", said: "It's really sad. Terrible circumstances for a young 26-year-old extremely confident horsewoman. It's just a really tragic, freak accident.
"She was very, very confident and extremely good at the job and absolutely loved her work and it's just a very, very sad and tragic outcome for her family and the workforce at Caulfield - her workmates at Caulfield."
Rice's family flew to Australia from England to be with her two weeks ago.
"I think they're in a state of shock at the moment, just coming to terms with how this could all unfold," O'Keeffe told Fairfax Media.
The news comes not long after two young female jockeys, Caitlin Forrest and Carly-Mae Pye, died following separate racecourse accidents in Australia in October.