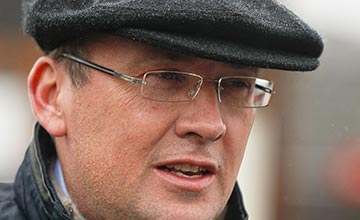 Robert Mills: contemplating leaving his present base
PICTURE:
Mark Cranham (racingpost.com/photos)
Mills considers selling famous Epsom yard
ROBERT MILLS on Tuesday admitted he is considering selling Loretta Lodge, one of Epsom's best-known yards, with his training career apparently close to reaching a crossroads.
The training centre's status was dealt a blow last week with the announcement Roger Teal's Thirty Acre Barn is shutting in December, and Mills's travails further underline that despite operating on the doorstep of a world-famous venue, the local racing community is not immune to the economics of the industry.
Mills took over the family's 48-box yard in 2010, but unlike his late father Terry who enjoyed big-race successes with the likes of Where Or When, Bobzao, Mitcham and All The Way, he has been unable to to unearth diamonds to raise his profile, and has sent out only three winners this year from ten horses.
Mills said: "It could be the case that we put Loretta Lodge on the market. We have been approached a couple of times over the years and feel this might be the right time to move along, but my mother Beryl and I will be sitting down to make that decision. We would only sell if we could buy somewhere else, and we are interested in a couple of properties.
"I don't want to get out of the game, but it is becoming more difficult in the sense that the £30,000-£40,000 horses we used to buy are now going for £120,000.
Looking to find that nice horse

"Our criteria, even when my father was alive, was that we would have ten or twelve ourselves and look to find that nice horse and if we didn't hit that top bar one or two of them would achieve a rating of hopefully 90 and we could sell them on to pay for the package and roll again the following year, but that is becoming increasingly difficult as a lot of trainers are finding.
"I always bought eight to ten yearlings, but we haven't been able to do that and I'm not going to get sucked into this world where just to have a head hanging over the door I've paid £60,000 too much. If it is going to be a 0-70 handicapper what is the point of paying £100,000-odd, it's just madness."
Mills, who has the option of moving more into the breeding side, added: "I would love to carry on training, but it has to be viable and hasn't been for a long time."