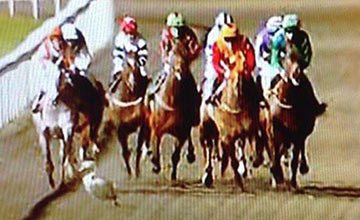 Tight Lipped (left) about to jump the errant swan
PICTURE:
screen grab
No more swanning about for Feilden flyer
THERE will be no swanning around for Tight Lipped in Chelmsford's 1m2f handicap this afternoon (4.10).
Connections have had to put up with wisecracks since the six-year-old grey took to the air at Kempton to avoid a mute and quite possibly deaf swan midway through his latest race.
Track officials are confident the swan lake drama will not be replayed at Chelmsford despite two reservoirs at the Essex track.
Clerk of the course Andy Waitt said on Tuesday: "No swans have been sighted on either of the reservoirs and there are no swans anywhere near the course."
That is good news for Tight Lipped, whose nimbleness in jumping the unwary swan early in the back straight averted a major incident at Kempton three weeks ago and gave him the unique Racing Post close-up comment of 'Led, hurdled swan after 5f.'
"We had plenty of wind-ups over the next few days, like were we on a wild goose chase," said trainer Julia Feilden.
"But it was lucky that everyone was all right and it wasn't a race of two-year-olds who wouldn't have known what to do. He was leading and if he had been brought down by the swan there would have been a pile-up."
The Newmarket trainer is using the incident to her advantage as Tight Lipped is under an ultimatum.
"We hadn't thought about running him over hurdles [tailed off on only try for former connections] but if he doesn't get his act together and win on the Flat soon that could be threatened."
Tight Lipped didn't have the wings to fly home that evening over 1m4f under Australia-bound Ross Birkett, and his sister Shelley Birkett takes over, claiming 3lb, today.
Feilden is hoping Tight Lipped rises to the occasion with a drop in both distance and rating positives for his chances. She said: "He has come down to 65 new and I think the 1m2f will suit him there, making the running."
Feilden has given stablemate Sabre Rock a break after completing his four-timer but reports: "He is back cantering and should be running again by the middle of February. Hopefully he can win a couple more and his owners are keen to win the £10,000 prize for winningmost horse of the all-weather season."