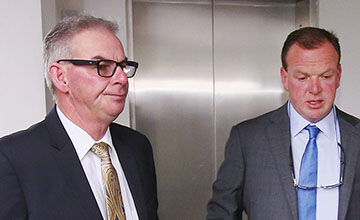 Lee and Shannon Hope: "We are not challenging the readings which were recorded. What we are challenging is what those readings mean"
PICTURE:
Getty Images
Hopes plead not guilty
to cobalt charges
Australia: It is impossible for three horses trained by Lee and Shannon Hope to record high cobalt readings only through a feed and supplements regime, an inquiry has heard.
Experts say the cobalt must have been administered in a high dose the day before the horses raced or in a lower dose on race day, the Racing and Disciplinary Board has heard.
The Hopes have pleaded not guilty to the administration, or causing to be administered, the prohibited substance as well as the presentation of the horses to race with a prohibited substance in their system.
They are not challenging that Best Suggestion, Choose and Windy Citi Bear returned cobalt levels above the threshold of 200 micrograms per litre of urine following races last year.
"We are not challenging the readings which were recorded. What we are challenging is what those readings mean," the Hopes' legal counsel Robert Stitt QC told the RAD Board on Thursday.
The father and son trainers are arguing that the feed and supplements regime produced the high readings.
But Jeff Gleeson QC, for Racing Victoria stewards, said experts say it is impossible for the high readings to be recorded only through that regime.
The probabilities of the cobalt levels being recorded based on the diet and supplements regime ranged from about one in a million for Windy Citi Bear to one in 27 million for Best Suggestion, he said.
"They're just not consistent with the treatment regime disclosed by the Hopes," Mr Gleeson said.
The only realistic explanations were that the cobalt was administered either in high dose the previous day or a lower dose on race day, he said.
But Mr Stitt said the expert evidence shows cobalt accumulates within the tissues of mammals.
"It is suggested that there is no other explanation other than some nefarious activity ... that proposition is challenged. Not only is there an explanation but there is an explanation that is consistent with the evidence and consistent with the science."
Mr Stitt said Lee Hope, 64, had never been charged or found guilty of breaching racing rules in his 49 years in the business while Shannon Hope also had a clear record in his 25 years.
"You've got somebody who has spent nearly 50 years in the industry, not having been guilty of any offence. You ask yourself why would he now turn around and commit an offence which is capable of wiping him off forever," Mr Stitt said.
Mr Stitt said there was no dispute that cobalt was a prohibited substance and was performance-enhancing.
He said the Hopes' case, the first cobalt inquiry in Victorian thoroughbred racing, differed to other trainers.
"They adamantly maintain they did not administer cobalt improperly," he said of the Hopes.
Sydney trainer Sam Kavanagh has appealed a nine-year disqualification for the use of cobalt.
His father Mark Kavanagh also faces charges along with fellow Flemington trainers Danny O'Brien and Peter Moody.