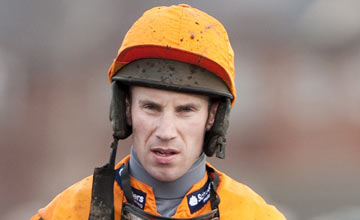 Wayne Hutchinson: has been out with injury since May
PICTURE:
Edward Whitaker (racingpost.com/photos)
Hutchinson aiming for September return
WAYNE HUTCHINSON is aiming to return to the saddle in September, as the jump jockey recovers from an operation on his hip.
Hutchinson has been out of action since May, and underwent the operation during Royal Ascot week.
Speaking on trainer Alan King's website, he said: "The injury goes back to Stratford in the spring, and I suffered two tears in a capsule that runs around the outside of the hip joint.
"However, the scan also showed excess bone on the top of the femur, which limited the range of movement I was getting, plus the surgeon discovered that I shredded the meniscus as well.
"However, the operation went well, and then it was just a case of regaining the lost muscle tissue.
"I could not put on any weight on the hip for the first three weeks so was on crutches, but we are now on to the next stage and I have made regular visits to Oaksey House, doing physio, and, while I was restricted to five minutes a day at the start, I have built that up to an hour a session for the last couple of weeks.
"The people and facilities at Oaksey House have been brilliant, and everything seems to be coming on well, and gradually we are increasing the exercise, doing squats and lunges.
"So if all goes well I will return to see the surgeon early next month and, while you have to do things by the book in these situations, I would like to think that come mid-September I will be back on a horse."