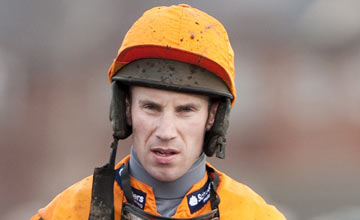 Wayne Hutchinson: likely to return next week
PICTURE:
Edward Whitaker (racingpost.com/photos)
Hutchinson misses Smad Place ride due to injury
WAYNE HUTCHINSON has been forced out of action for a few days after suffering a foot injury when falling from The Tourard Man at Doncaster on Friday.
Hutchinson, who was set to partner Who Dares Wins and Smad Place at Cheltenham on Saturday, will be replaced by Richard Johnson. He will also give up his ride aboard Up And Go at Sedgefield on Sunday.
His agent, Chris Broad, felt the likely cancellation of meetings in the next few days may prove a blessing in disguise in order to give Hutchinson more time to recover.
Broad said: "It was such a shame Wayne had to miss out on Saturday as he had some lovely rides. He was mad keen to ride them but couldn't risk it - his foot is still black and blue with bruising.
"His foot is very swollen despite icing it through the night. The swelling hasn't gone down and he was struggling to get a boot on this morning but hopefully he will be back in a few days."
James Reveley is also out of action this weekend after sufferring concussion following a fall from Harvey's Hope at Doncaster.
Reveley, who misses three rides at Doncaster on Saturday and one mount at Sedgefield on Sunday, hopes to be back in about a week or so.
Sweeney suffers broken ankle
Fergus Sweeney: hopeful of a return for the turf season
PICTURE:
Edward Whitaker (racingpost.com/photos)
The same cannot be said for Flat rider Fergus Sweeney, who will be out for a while longer after breaking his ankle following an incident in the paddock aboard the Alan King-trained newcomer Celestra, who was subsequently withdrawn, at Lingfield on Friday.
Sweeney is aiming for a return in time for the start of the turf season.
He tweeted: "Thanks for all of the well-wishes -just one of those things unfortunately. Waiting to get patched up but I will be back for the start of the turf season all being well."